CK's
Calle Chaparil
29780 Nerja
CK's is located on calle Chaparil, opposite prolongacíon Antonio Millón, and opened on January 12th 2013.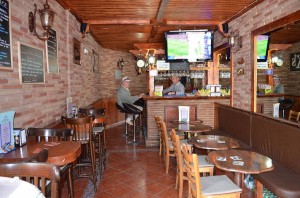 The bar is run by Cindy and Kurt who, prior to moving to Nerja, ran a bar in the town of Almerimar.
There is a small front terrace and also an enclosed terrace at the rear. Food is on offer, a variety of delicious home-made dishes at reasonable prices, such as Cindy's home-made pies (beef and ale, steak and kidney, chicken) served with chunky chips or mash, veg and gravy, or chicken breast filled with garlic butter and wrapped in bacon.
Jovial hosts and a nice place to sit and have a relaxing drink.