Los Barriles
Calle Carabeo
29780 Nerja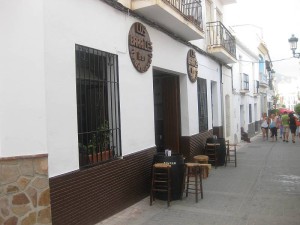 Los Barriles, the home of the 'fiery sausage', is at the beginning of calle Carabeo and is a really great little tapas bar.
The tables are barrels and you can sit out on the street if you wish on strange little wooden stools.
The bar is run by Rafa, with Mari Carmen taking care of the galley, and the speciality of the house is 'fiery chorizo'. It comes in a small, pig-shaped pot and you cook it on your table (barrel). Deelicious.
It's a no-frills bar, but you don't need frills, It's friendly, has great atmosphere and the prices are not bad at all.