The Restaurant at Burriana
Calle Filipinas
29780 Nerja
Tel: Andrew: (+34) 657 506 265
Tel: Diane: (+34) 655 815 064
Email: info@therestaurantatburriana.com
Website: www.therestaurantatburriana.com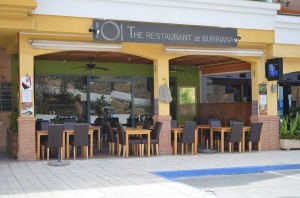 The restaurant at Burriana, located at the bottom of calle Filipinas, Nerja, just before Burriana beach, opened in 2007. The owner and head chef is Andrew Ward.
There is a terrace at the front of the restaurant. The menu changes regularly-
EVENING MENU
(9th – 30th June)
STARTERS
Asparagus, Ham Hock and Chive filo Tartlet
Roasted Hoi Sin Duck Salad with Beansprouts & Orange
Buffalo Mozzarella with Beefsteak Tomatoes, fresh Basil and drizzled with Balsamic Syrup
Puff pastry filled with Gravadlax, Crème fraiche and mixed fine herbs
Homemade Pork Terrine served with Caramelised Red Onions
& Melba Toast
MAIN COURSES
Slow cooked Aromatic Shoulder of Lamb on Cumin rosti with
Asian leaves
Sauteéd Chicken breast with White Wine, Shallots and Tarragon
Pan fried fillets of Sea Bass served on Provençale Lentils
Jerk Pork Fillet with spicy Tomato and Mango relish
Thai Green Curry with Chicken or Vegetables served
With Noodles or Aromatic Rice
Italian Baked Aubergines and Tomato with Mozzarella
SPECIALS
250gr Griddled Fillet of Beef cooked to your taste with sauce of your choice – Supplement €6.00
Slow-roasted suckling pig with a simple jus – Supplement €7.00
Grilled Lobster Thermidor served with a fresh Spinach,Watercress & Basil salad – Supplement €12.00
PUDDINGS
A delicious selection of homemade desserts
TWO COURSES – € 20.00
THREE COURSES – € 25.00
Plus IVA/VAT@10% (Service not included)
The restaurant is open seven days a week from 19:00.