The Ship
Avenida Mediterraneo
29780 Nerja
Tel: 95 252 86 08
The Ship is located on avenida Mediterraneo, opposite the Hotel Riu Monica, and is only a short stroll from Torrecilla beach.
Agnus and Michel are at the helm of The Ship, a very friendly bar with an international flavour and always a good atmosphere. You can sit inside or relax on the sunny terrace, maybe enjoy a slice of rather excellent Dutch apple pie and cream. Highly recommended.
The decor is centred around timepieces and there are some amazing clocks on display on the walls, shelves…just about everywhere.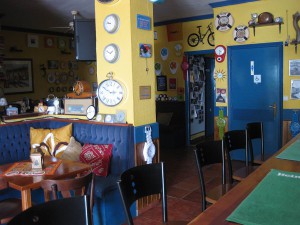 Opening Times:
Open Daily 12:00 – late
(Closed Mondays)