Info
In this section you will find all sorts of information on a wide variety of subjects, ranging from practical info relating to living in Spain to biographies of religious figures, from bullfighting to a resumé of the Spanish Civil War.
Want to see the Aragon regional flag?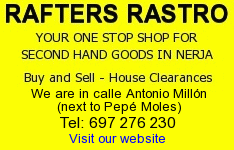 Passport need renewing?
Want to visit the local market in Puerto Banus, buy tickets for the Alhambra Palace in Granada or look at a copy of the telephone manual in English?
Curious to know how much Telefonica charge to mobile phones, desperately need the dialling code for Tuvalu?
Maybe not, but you'll find all this, and more, in this section.
There's information, links and downloadable forms and files. The navigation menu is alphabetical for ease of searching for what you are looking for, or not.