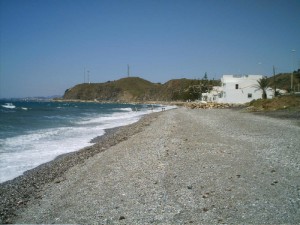 Lagos is a small village, part of the municipality of Vélez-Málaga, about 15 kilometres from Nerja along the N-340 coastal road.
It's about a fifteen minute drive or, alternatively, you can hop on the (non-direct) Nerja-Málaga bus, takes about twenty to twenty-five minutes usually.
Pijil beach runs parallel to the coast road and is about 1,000 metres long and, on average, about 5 metres wide. It is not what you would call a 'mainstream' beach, far from it, but is very pleasant and there are a couple of very good eateries in the village.
This long, thin strip of beach is basically gravel, dark in colour, and the sea swell in this area is moderate, which makes for good swimming conditions. Facilities are very basic and it's a question of bring your own sunbed or entertainment.
Facilities include:
Beach showers
Lifeguard
Rescue team
Disabled access
Red Cross