El Puente
Puente Nuevo
29780 Nerja
El Puente is a bar/restaurant located at the western end of town just over the old-new cobbled bridge. It has a large dining area, sunny terrace and serves a great selection of tapas.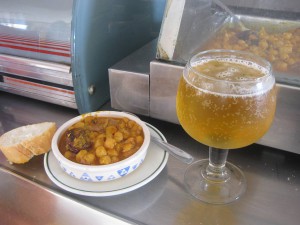 There are usually about 18 displayed on the bar at any one time, ranging from salads to meats to fish. A very good choice.
The tapas are included in the price of beer/wine. Excellent place with a great atmosphere.
Recommended: Whole battered squid, prawns.
WiFi internet is available for customers.
April 21st 2011

It was a nice day so I decided to stop in at El Puente for lunch. I have often had the tapas, always delicious, so it was about time I tried a proper meal as it were.

Being a nice day, to start with, anyway, I elected to sit outside on the terrace. Nice to watch the world go by as you dine. I decided to try their menu del dia, 3 courses plus bread and a glass of wine for €9. Not a bad price these days.

The first course menu consisted of several soups, salads and even 'callos' (tripe). I opted for a traditional Gazpacho soup. It was a large bowl, nicely chilled and very tasty.

Main course choices were hake, chops, pasta, chicken pinchitos, fish of the day and a couple of others, served with potatoes or salad or both. I'm partial to a good bit of hake so went for the merluza a la plancha which came with salad (lettuce, tomato, carrot, corn) and chips. Nice chips.

The hake was nicely done and had a wonderful garlicy tang to it, but not overpowering. There were other spices, but I wouldn't have a clue what they were.

Cakes, pastries, ice cream and flans were the available options for dessert. I was curious about the cheesecake, so decided to give it a go. Well. Absolutely delicious, and although the entire meal was well presented, the cheesecake took the prize for 'looks'. It would have been completely at home in a top-rated restaurant.

There were quite a few people in El Puente, both in the bar and out on the terraces, but the service was prompt, friendly and efficient.

I thoroughly enjoyed my meal and if the menu del dia is anything to go by, the regular menu is likely to be very good too. The quantities were on the generous side and I couldn't pick fault with any of the courses.