Plaza de Andalucía is a small square in the old part of the town, known as the Barriada de las Protegidas  – neighbourhood of the Protected –  and is dominated by the Iglesia San Miguel (Saint Michael's Church).
In the square is a bust of Blas Infante, considered the father of autonomy for the region of Andalucía. Blas Infante Pérez de Vargas,to give him his full name, was a politician, writer, historian and musicologist.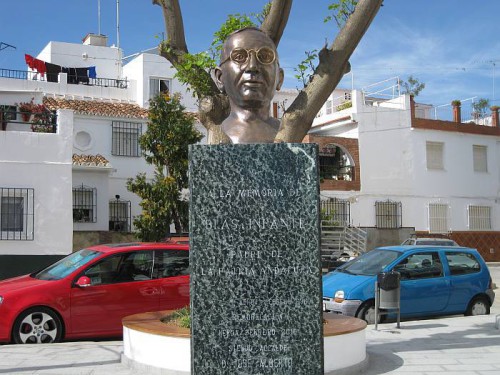 In 1936, he was summarily executed by the Franco forces when they took over Sevilla at the start of the Spanish Civil War.
The square was totally totally renovated in 2009/2010 and on February 28th 2010 it became the site of official, institutional celebrations for Andalucia Day – Día de Andalucía.
The local neighbourhood association, which has its own alcalde pedáneo  or village headman, organises a number of events throughout the year including the Veladilla de San Miguel (soirée or musical evening) which is held in September each year.
There are no tapas bars or restaurants on the square itself but there are several very good tapas bars within a couple of minutes walk, such as Los Cuñaos, La Puntilla, Chispa and Rincón del Sabor. You can find details of these in the Bars and Restaurants Guide or see them on the Tapas Bars Map.