Taxis are an easy and relatively inexpensive way of getting around.
Taxis in Spain are not always metered and if they aren't, the taxi driver will carry a booklet with the official rates which has been authorised by the local Town Hall. Taxis in Nerja are now metered (since 2015).
Because there are often various supplements, such as extra baggage, night service etc, it is generally prudent to clarify the price in advance as unscrupulous taxi drivers have been known to overcharge unsuspecting tourists. You can pre book Malaga airport transfers with up to 4 large cases included at a fixed price – less than 70 euros (or 55 pounds).
Comparison of Major Online Transfer Companies From Malaga Airport to Nerja as of 2017
Official rates should be displayed at airports and inside any licensed taxi. There are taxi ranks in most city centres and it is also possible to hail a taxi in the street.
A green 'libre' (free) notice on the windscreen or a green light on the car roof at night indicates a taxi which is available for hire. Most bars and restaurants will call a taxi for you should you so desire.
The main taxi rank is located in Plaza de la Ermita, calle San Miguel.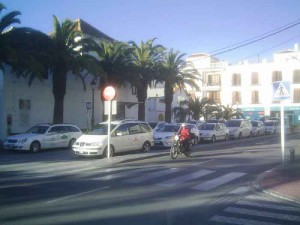 During the evenings, from around 20:00, the taxis migrate to avenida Castilla Perez, outside the pharmacy about halfway down the street.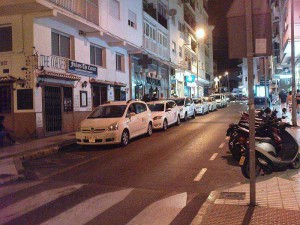 There is also a taxi rank at the bus station. The taxi rank, operational from 08:00 to 20:00, is on the opposite side to the ticket kiosk.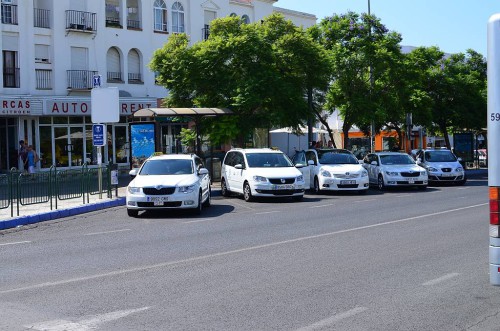 Taxi to and from Malaga Airport
If you are planning to travel from Malaga Airport to Nerja, it is highly advisable to pre-book your taxi. If you jump into a taxi at Malaga airport without pre-booking, the official rate for this journey is currently €95,78 on Saturdays, Sundays and Festival Days and after 10:00pm and €80,98 at all other times, although it's not uncommon to be charged more. Nerja Taxis charge €66 and you can pre-book with their English-speaking staff here or by calling (+34) 951 254 208. They also do minibuses for up to 20 passengers.
Local Taxi Fares
The local taxi service in Nerja is now metered (since the end of 2014). Hence you can be sure that you will be charged according to the official tariffs established by the authorities.
Tariff charges are as follows:-
Tariff 1: price per km or fraction of:  0,58 €
Tariff 2: price per km of fraction of:  0,69 €
Tariff 1: 1 hr waiting time:  14,44 €
Tariff 1: 15 minutes waiting time:  3,60 €
Tariff 2: 1 hr waiting time:  17,34 €
Tariff 2: 15 minutes waiting time:  4,34 €
*Minimum charge:  3,14 €
Tariff 2 will be charged during the following periods:
Saturday and Sunday from 00:00 to 24:00
National, provincial and local holidays from 00:00 to 24.00
Weekdays from 22:00 to 6:00
The Numbers
NERJA (Airport Transfers) – 951 254 208
NERJA (Radio) – 95 252 0537
NERJA (Rank) – 95 252 4519
NERJA (Minibus Airport Service) – 95 125 4208
ALMUNECAR – 958 630 017
BENELMÁDENA – 952 441 545
COMPETA – 95 251 6199
ESTEPONA – 952 802 900
FRIGILIANA (Rank) – 92 253 3231
FRIGILIANA – 95 253 30 48
FUENGIROLA – 952 471 000
LA HERRADURA – 95 828 06 54
MALAGA – 95 232 7950
MARBELLA – 952 823 835
MIJAS – 952 476 593
SALOBREÑA – 95 861 09 26
SAN PEDRO – 952 774 488
TORREMOLINOS – 952 382 744
TORROX – 95 253 1025
TORROX PUEBLO – 95 253 03 52
TORRE DEL MAR – 95 254 0016
VÉLEZ MÁLAGA – 95 254 00 16