Cómpeta, with its labyrinth of narrow cobbled streets dating back to Moorish times, sits seven hundred metres above sea level and affords stunning views of the surrounding Tejeda and Almijara mountains, countryside and Mediterranean.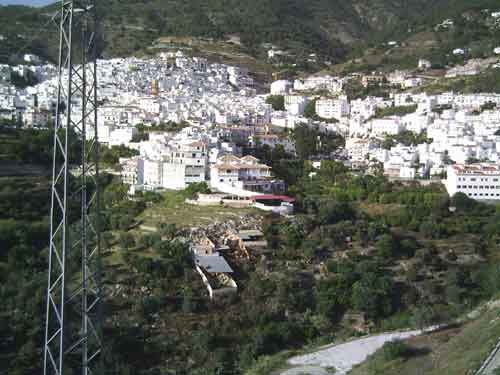 The first mention of the actual name 'Cómpeta' dates from 1487, indicating that before this time it was purely a rural community.
There are three routes to Cómpeta, all starting from the Mediterranean Highway. The most interesting is the one that begins on the A-6204 at the Torrox exit, where you pass through Trayamar, an archaeological site of Paleo-Punic tombs from the seventh century B. C., considered the most important of their type in the Mediterranean area.
You can also get to Cómpeta via the A-6203 from Algarrobo, passing through Sayalonga. or on the MA-117 at Vélez-Málaga and arriving in Cómpeta via Arenas, Daimalos and Corumbela.
Statistics
Area:  square kilometres
Altitude: 700 mtrs above sea level
Population: +/- 4,000
Distance from Nerja: 25 km
Driving Time: /- 35 mins
Places of Interest
The town is probably best known for its locally produced wine, available both dry and sweet, and one of the most popular annual fiestas here is the Noche del Vino (Night of the Wine) on the 15th August with flamenco and sevillana music and dance plus mucho free-flowing vino.
The Museo del Vino is located on Calle Constitución 6 and wine is served from the barrel. There is also a restaurant right next door, Restaurante Asador Museo.
The focal point of Cómpeta is the Plaza Almijara with its magnificent sixteenth century church. The square a choice of bars and restaurants and is a nice place to take a break and watch the world go by.
Useful Info
Town Hall
Tel: 95 251 6006
Tourist Office
Tel: 95 255 3685
Open Wednesday-Sunday 10am-2pm
Guardia Civil
Avda de Torrox 21
Tel: 95 251 6097
Local Police
Tel: 95 253 98 28
Taxis
Tel: 95 251 6199
Market day
Saturday
Servicio Andaluz de Salud
Calle San Antonio
Tel: 95 251 60 89