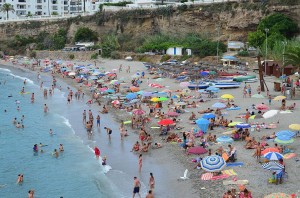 To the right of the Balcón de Europa is El Salon Beach.
Access is via a steep(ish) walkway from the Balcón de Europa (to the left of the Toboso building) which zig-zags its way down to the beach.
El Salon is probably best described as a 'cosy' beach, much favoured by Spanish visitors to the town and it gets quite busy and crowded in the summer.
There is no restaurant or chiringuito but there is a refreshment kiosk.
Behind the beach area are a number of dwellings, built either partly or completely into the cliff face. Some are used as vacation retreats by Spanish holidaymakers, others are used by the local fishermen.
The beach is about 200 metres by 20 metres, sandy, and includes the following facilities:
Showers
Changing facilities
Toilets
Lifeguard (summer)
Warning signals
Refreshment kiosk
Disabled access
Sunbeds
MORE PHOTOS (photos added regularly)