Salares is a small, Morisco village built on the hillside with characteristically narrow, steep and winding streets, some of them stepped. The area has abundant water, a good climate and the terrain made it a readily defensible place in the past.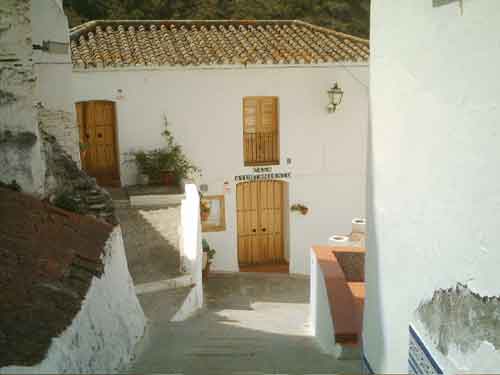 The Greeks and Phoenicians were the first settlers, followed by the Romans. The old Roman bridge, Puente Romano, is still in perfect condition today.
Much of the architecture, though, owes its influence to the Arab occupation. After the Christian re-conquest, the local Moriscos (Muslim converts to Christianity) joined in the rebellion which was engulfing the Axarquia region but they were finally defeated in the battle of Frigiliana.
The great earthquake of 1884 caused a lot of material damage to the village, although there were no mortal victims. It is a nice, peaceful village to wander around, with colourful plants and flowers everywhere….and loads of cats.
Statistics
Area: 10 square kilometres
Altitude: 540 mtrs above sea level
Population: +/- 200
Distance from Nerja: km
Driving Time: +/- mins
Places of Interest
Alminar
Casa Torreón
Paroquia de Santa Ana
Puente Romano
Various archaeological remains
Local Cuisine
Local specialities include: Ajo Blanco (a sort of gazpacho without the tomato but with crushed almonds and served with grapes), Migas (fried breadcrumbs with various local fruits), Gazpacho (chilled tomato, garlic and vegetable soup), Roscos de Naranja and Roscos de Vino. Wine is made locally.
Local Festivals
San Anton (Jan 24th)
Fiesta de Santa Ana (July 21st and 22nd)
Romería de Santa Ana (July 26th)
As-Sharq (3rd or last weekend in September)
This slideshow requires JavaScript.