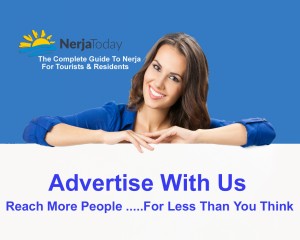 Nerja Today is the most used website on the internet about Nerja with hundreds of thousands of visitors waiting to see your advert!
Why advertise with us?
100'000 page visits+ on NerjaToday.com every month, which makes it an ideal place to get your advert seen!
Established for almost 15 years, we are at the Top of  popular search engines for many web searches in Nerja.
We have the highest viewing figures for any specific Nerja website in the area!
Every week we have approximately 25'000+ page views on our website! You could reach more people with us for less than you think.
Advertising with Nerja Today is straightforward, economic and effective. Why not get your business noticed today?
How to proceed
Simply Email us today at  [email protected]   
Or Fill out this simple form:
Advertising Enquiry Form
List your Club, Society or Association.
The NERJA TODAY CLUBS and SOCIETIES
If you would like to promote YOUR business or property, then simply EMAIL [email protected] with your details.