Running for 12 kilometres east of Nerja to La Herradura in Granada province, the Maro-Cerro Gordo Natural Park and its Marine Reserve are an unspoilt natural beauty spot.
Covering an area of 1,815 hectares on land and sea, the park is made up of breathtaking rocky cliffs, sparkling clear waters and secluded coves that can only be accessed by boat or sea kayak.
This protected nature reserve provides a home to a rich variety of the plant and animal life. On the ground, you will find Mediterranean scrub and woodland with Aleppo pines, locust trees and wild olives providing homes for a variety of species of birds. In some of the less accessible parts, sea lavender grows but is unfortunately under threat from visitors who pick it.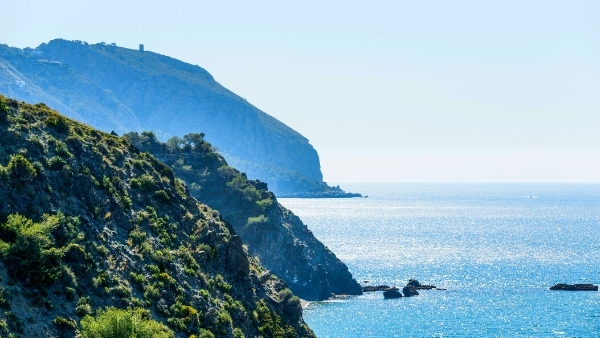 A huge section of this nature reserve lies beneath the water and this is where the Maro-Cerro Gordo is exceptionally beautiful! Its waters are teeming with sea life that includes meadows of Posidonia seagrass, also referred to "the lungs of the Mediterranean" as it is one of the most important sources of oxygen in these coastal waters.
The Marine Reserve is also home to endangered Orange Coral and colourful fish species such as the Mediterranean rainbow wrasse, and Ocean sunfish. Snorkelers and scuba divers love the area because of its crystal clear water that allows you to see for many metres.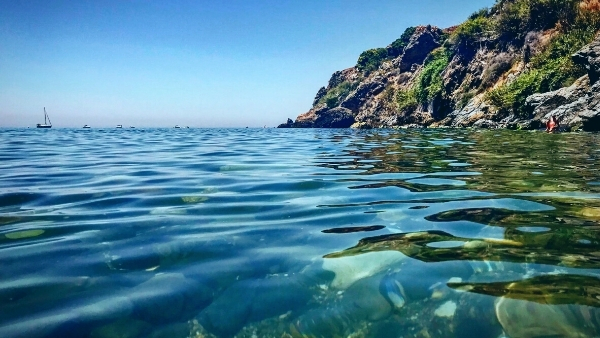 Maro-Cerro Gordo Beaches
There are eight beaches along this stretch of coast and they are known as being some of the most spectacular in Spain. It's no wonder then that during the summer the beaches of the Maro-Cerro Gordo are filled with both locals and visitors from all over.
Because the area is so unspoilt access to the beaches can be a tad tricky. So it's a good idea to use the shuttle bus where available as it will make your journey up and down so much easier.
Playa de la Cala el Cañuelo
The most popular beach is the 400 metres long Playa de la Cala el Cañuelo. Renowned for its crystal-clear waters and hidden coves, this beach is a snorkeller's dream!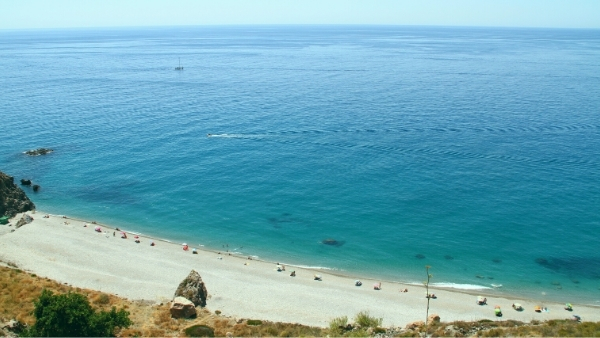 Facilities available include a beach bar, showers and toilets. Sun loungers and umbrellas are available for rent, and there are lifeguards on duty throughout the summer.
The water on Playa Canuelo is extremely clear due to the pebbly bottom, which is why we recommend beach shoes when not swimming. 
Getting to Playa Cañuelo
To get to Playa Cañuelo take the N-340 in the direction of La Herradura and look for signs to the beach. There is a small car park, but it can get quite busy, so try and arrive early. From the car park, it is a 2.5-kilometre walk to the beach, or you can take a minibus that charges two euros for a return ticket. The fare is payable to the driver who works for the Andalucian Department of the Environment.
Getting down to the beach in a motorised vehicle other than the minibus is forbidden as is camping and fishing due to it being a protected area.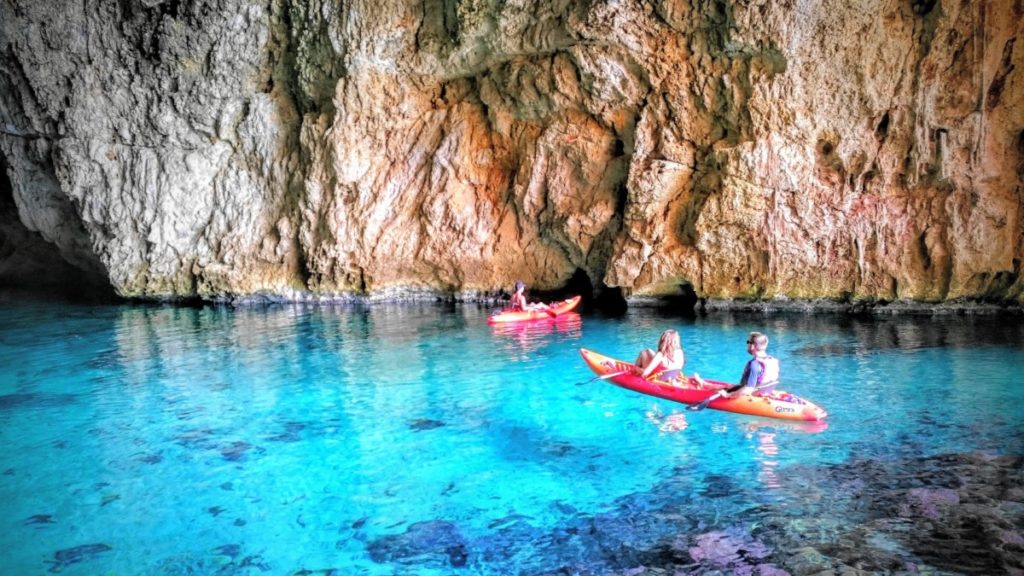 Tip: Rent a sea kayak on Maro beach and explore secret hidden coves, caves and waterfalls along the Maro-Cerro Gordo coastline.
Why Visit Maro-Cerro Gordo?
The beautiful Maro-Cerro Gordo is an area full of stunning scenery and idyllic coastal beaches.
From pirate lookouts, natural waterfalls and a pretty seaside town on the doorstep, its unrivalled beauty is practically unmatched anywhere else on the Costa del Sol.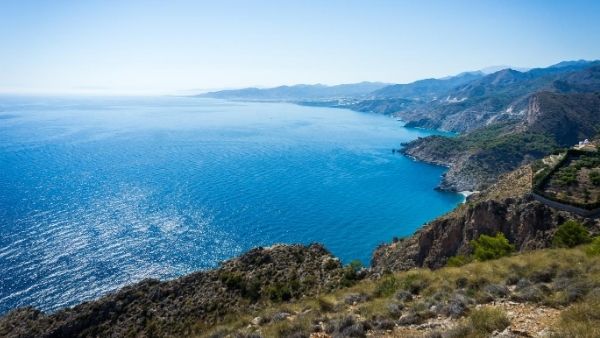 Things to see and do near the Maro-Cerro Gordo
There several beautiful walks that you can do along the Maro-Cerro Gordo coastline.
Other places in the vicinity worth visiting are the spectacular Nerja Caves that stretch for nearly five kilometres and contain not only prehistoric paintings but the largest stalactite in the world.
The town of Nerja boasts the Balcón de Europa, a mirador with spectacular views out across the Mediterranean Sea and a multitude of bars and restaurants serving cuisine from around the world.
Also nearby is the pretty white-washed Moorish village of Frigiliana and the River Chillar and its spectacular hike through a steep gorge adorned with rockpools.