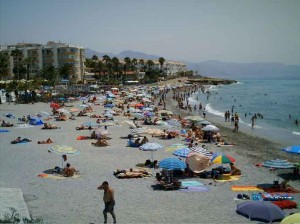 Torrecilla beach is located at the western end of Nerja and would probably be described as Nerja's 'second' beach in terms of facilities.
The beach is a regular recipient of the prestigious 'Blue Flag', issued by the European Union, and the 'Q for Quality' flag, issued by the Spanish authorities, and both can usually be seen fluttering at the end of the beach near the ruins of the old watchtower.
The beach is easily accessible, with points of entry at either end and three others at intervals in between.
The promenade at Torrecilla beach runs from the bottom of Plaza de los Cangrejos at one end to the ruins of the old Moorish watchtower at the other end. It then joins the promenade at El Chucho beach.
There are two restaurants on the promenade, one at each end, these being Merendero Torrecilla and Merendero Cobos.
Both restaurants serve good quality snacks and meals and at very reasonable prices. There are also many other restaurants within a short distance of the beach, especially around Plaza Fabrica de los Cangrejos and on avenida Mediterraneo.
During the summer season there are also several refreshment kiosks along the promenade as well as a small 'beach library' (Biblioplaya) where you can borrow books, magazines, newspapers and various games for the kids. All you need is some form of ID.
The rocky promontories at either end of Torrecilla beach are good places for those who like fishing. Do be careful if swimming or snorkelling in these rocky areas, particularly near the old Moorish tower, not only because of the fishermen – you don't want to be caught! – but also because there can be some very strong and deceptive undercurrents.
The beach, which is coarse sand and fine pebbles, is about 300 metres long and 40 metres wide. Sunbeds are available for hire – and can be reserved – and the price is €4 for the day.
Facilities include:
Promenade
Toilets
Showers
Footbaths
Lifeguard (summer)
First Aid post
Warning signals
Telephone
Refreshment kiosks
Bars/Restaurants
Lending library (summer)
Sunbeds
Disabled access
MORE PHOTOS (photos added regularly)