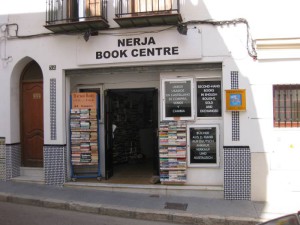 At a time when businesses are still disappearing weekly, if not more frequently, it is good to see that some people have withstood the test of time, and economics.
The Nerja Book Centre is one of these, the shop now in its twenty-seventh year. Still the same owner, Derek Hands, and still in the same location, calle Granada. A rarity these days.
There are over 20,000 second hand books in stock in some fifteen languages, although the largest section by far is English, followed by German and Spanish.
The principle is simple and hasn't changed since day one. You buy a book and then, if you decide to return it then you get 50% of the marked price towards the cost of your next book.
If you have books you've bought elsewhere, the airport being a popular place, then you will quite likely get some credit for these.
If you have large quantities of books you want to get rid off, all you have to do is give Derek a call and he will take a look and make an offer, it's as easy as that.
In addition to the 'normal' books, for the want of a better phrase, there are also numerous collectables, first editions and signed copies.
One thing I like is the fact that many of the sections are organised in alphabetical order, which makes browsing more of a pleasure than when books are just stacked on shelves in any old order. Amazing how many places, particularly second hand stores, don't put the books in any sort of logical order.
On February 16th 2007, Derek celebrated the 25th anniversary of the bookshop and it was drinks and tasty tapas for all customers that day.
There have been a few changes over the years, but these have been the addition of extra services and have not affected the backbone of the business, namely books.
In the early days, Derek 'dabbled' with such things as hiring out bicycles and then later with the hiring out of TV's and video recorders. This was at a time when the bookshop also carried a large selection of videos, and later DVD's. for rental.
But books are his passion, which is easy to see when you visit the shop, and are now the sole trade. Apart from a few jigsaw puzzles. Long may it continue.