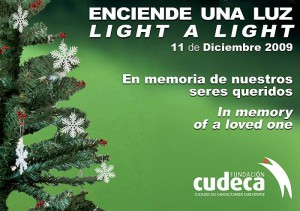 Cudeca Cancer Care Hospice once again celebrates Light a Light in memory of our loved ones on Friday 11th December at 6.00 p.m. at the Hospice Centre.
Light a Light is a special tribute to a loved one when a light and candle is dedicated to them for a minimum donation of €10.
The Hospice building is decorated with lights which are switched on by the President and Founder, Joan Hunt O.B.E., and every one of those lights is in memory of someone special.
On this special evening, there will be choirs singing Christmas Carols and the wonderful sound of Bell Ringers.
There will also be a raffle and you can enjoy eating home made cakes and other savoury delights. Further items on sale will be Cudeca's popular Christmas Cards, hand crafted by patients and volunteers, the 2010 Calendars and the "El Gordo" Lottery tickets.
Everyone is welcome for this poignant evening and your participation will help to continue offering a "Special Kind of Caring" to those who need it most.
Cudeca Cancer care Hospice, created in 1992, is a self-funding charity and non-Governmental organisation which has cared for more than 5.600 patients via the following care programmes; Home Care, External Consultations, Rehabilitation, Psycho-Social attention, Information, Counselling, Day Care Centre and In-patient Unit. All the cost-free care provided is for both the patient and the family.
LIGHT A LIGHT
Date: Friday, 11th of December Time: 6 p.m.
Place: Cudeca Centre
Avd. del Cosmos s/n, 29631 Arroyo de la Miel
Tlf.: 952 5649 10 – www.cudeca.org