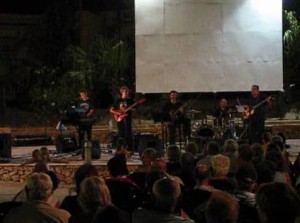 On August 19th, the group Los Hados Negros will be performing in Plaza Fabrica de los Cangrejos, Nerja, an event which will mark the group's 45th anniversary.
Los Hados Negros played their first concert on July 22nd 1965 at the Marissal in Nerja and continued until 1970, their last performance being at the Ventorillo del Santo. The lineup was: Pepe Millón, Pepe Cobos, Placido Cabra, Antonio Sánchez,  Antonio Ariza and Antonio Luis.
Members of the band went on to start up or perform in other bands, such as Los Tarsis and la Criatura, and Los Hados Negros passed into history. Or almost.
In 2003, the group were honoured by being chosen to open proceedings at the Feria and in 2007, Los Hados Negros decided to reform and resume their musical path. Since this time the group has played in numerous festivals, both national and international, and have built up quite a following.
There have been a few changes over time and the current lineup is: Pepe Millón, (bass and vocals), Pepe Cobos, (guitar and vocals),  Antonio Urbano, (keyboards and vocals),  Luis Mena, (drums) and Pablo Rojo, (guitar and lead vocals),