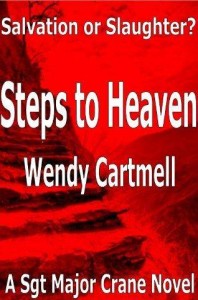 Local Torrox resident Wendy Cartmell has just published her crime novel Steps to Heaven in eBook format. This is the first book in the Sgt Major Crane series.
Crane is a Special Investigations Branch Detective in the British Army, based at Aldershot Garrison. Crane is disturbed by the horrific case of a soldier called Solomon who, after recently returning from Afghanistan, murdered his wife and 6 year old son and then committed suicide.
It seems Solomon was attending a local Church, which encourages people to join by offering salvation to its members. But as Crane investigates and the body count rises, events take a darker turn and he wonders what the Church is offering – salvation, or slaughter?
Wendy had to take early retirement from teaching due to ill health and moved to the Costa del Sol.
My inspiration for the Sgt Major Crane novels has been my love of crime writing (which I read voraciously) and my husband's 22 years service in the British Army. So with a deep breath and fingers crossed I have finally decided to publish! Your feedback would be welcomed and if you enjoy the book, please recommend it to a friend.
Support your local author by downloading it now from Amazon for under a £1. You don't need a Kindle. The eBook is available in multiple formats and can even be downloaded to your computer.
You can visit her website at: www.wendycartmell.webs.com