San Isidro (May)
San Isidro takes place on 15th May. San Isidro (Saint Isidore) is the patron saint of farmers, and many villages celebrate with processions through the fields/streets and a grand fiesta.
The statue of San Isidro resides at the Nerja Caves. However, for San Isidro celebrations, the statue is brought to the town just before the event and then makes its ceremonial journey back to its home in the company of thousands of 'pilgrims'.
In Nerja, it all starts on the evening of May 14th with a big party at the Nerja Caves, near Maro, which tends to go on until the next morning! There's music, dancing, (temporary) bars galore and stalls and stands selling food of all types.
On May 15th, proceedings begin with a Mass at the El Salvador church (around 11:00) on the Balcón de Europa. After homage is paid to the farmers of the area, the procession begins its long, slow journey up to the Nerja Caves.
The procession is made up of horse riders, clad in traditional costume, carriages, carts pulled by teams of oxen (magnificent beasts), floats of all shapes and sizes and thousands of people on foot.
The horse riders are not only locals, or tourists hiring a horse for the day from one of the riding schools, but also from the surrounding area, some regulars riding down from Competa to take part in the procession.
All morning you will see riders making their way into town for the start of the procession. However, for some strange reason, the mustering point for the riders changes each year and always seems to be the best kept secret until the very last moment.
Even the Local Police don't know what's going on half of the time, hence there are always riders in the wrong place at the wrong time. But it's all part of the fun, probably part of the tradition by now, and the riders just accept it with a bemused smile and a shrug of the shoulders.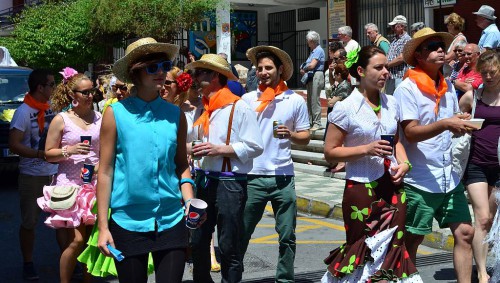 The procession wends its way slowly to the Nerja Caves, basically up calle Pintada and then following the main road. The statue of the Patron Saint tends to arrive at the Caves around 14:00, but it will be several hours after that before the stragglers arrive.
And then it's party time again! Although there is plenty of food and drink available, it is one of those times when many families take their own picnics and barbecues, enjoying a leisurely meal in the sun.
San Isidro is invariably warm to hot, generally tending to herald the start of summer.
The Council puts on a special bus service which constantly runs back and forth between the Caves and Nerja town, part of the reason being, of course, to discourage people from drinking and driving.
You will find loads of San Isidro photos throughout the years in the Photo Gallery.