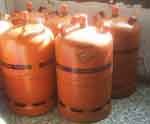 The inspection of gas installations must be carried out, by law, every 5 years and it is the owner of the premises who is responsible for directly contacting the relevant gas company to make an appointment for them to come to your house.
A normal gas inspection, including the replacement of any tubes and, if necessary, the gas bottle housing, will cost around €60 at the most.
Should a major problem be detected during such an inspection, you must be previously informed of the price, including a written quotation, and sign any agreement before any work is carried out.
In Nerja there are 2 official gas revision companies, Repsol and Cepsa.
Owners who have orange gas bottles need to contact García & Hijos, calle Antonio Millón 8. The telephone number is 952 52 4195.
Owners who have silver gas bottles need to contact Servigas in calle Ruperto Andúez 13.
These are official, reputable companies who will give you all the necessary guarantees.
VERY IMPORTANT
Bogus gas inspectors are the scourge of the Costa del Sol.
The so-called gas inspectors, very often carrying identification papers, go from door to door preying on the unwary and vulnerable, particularly foreign residents and the elderly. They insist on carrying out an inspection of the gas installation, which often literally means just 'looking' at it, change the rubber tube on the gas bottle and then demand an often large sum of money.
One Nerja resident was recently charged almost €450 for this 'service'. The correct charge, from an authorised company, would be in the region of €60. A bit of a difference.
Inspections are only carried out after you yourself contact an appropriate company and make an appointment for an inspector to visit your home.
The basic rule is, if anyone knocks at the door claiming to be a gas inspector, DO NOT LET THEM IN. If you are in any doubt whatsoever, and some of the so-called inspectors can be quite 'persuasive', call the Local Police or the local Town Hall for advice.
Often, but by no means always, asking such callers to wait while you check with the police or Town Hall will solve the problem, they will make an excuse to leave or will say that they will call back later.