Edificio Coronado is a large apartment block on calle Los Huertos (on the corner of calle Frigiliana), not far from the Parador Hotel, with magnificent views over the whole of Nerja.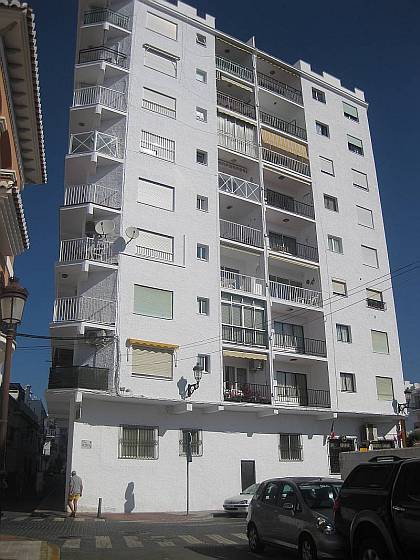 The block has a communal swimming pool and small garden area.
It is a fairly quiet area in many respects, but that doesn't mean there are no amenities in the immediate vicinity. It is actually very handy for almost everything.
Within 50 metres you have several good restaurants, such as La Galeria and Sloan's, a Chinese restaurant which does both take-away and home delivery, a car hire place (Lessagro) and a small supermarket. Just a little way down calle Frigiliana you have a nice little square, Plaza del Olvido, with  Bar Joanny and it's large terrace. No cars, so ideal if you have young kids.
The nearest beaches are Carabeo (two minutes walk) and Carabeillo (three minutes walk). There are, however, steep steps to negotiate to get to these beaches.

Carabeillo beach, Nerja
The main beach, Burriana, is about a ten minute walk (twenty on the way back as it is a quite steep uphill climb) and the centre of town, the Balcón de Europa, is about a five minute walk. And on the flat! Once at the Balcón de Europa you have the choice of several more beaches, such as Calahonda, El Salon and La Caletilla.
[googlemap lat="36.74913197732451″ lng="-3.8729166984558105″ width="600px" height="400px" zoom="16″ type="G_NORMAL_MAP"]Edificio Coronado[/googlemap]