Hotel RIU Monica ****
This is an excellent hotel, overlooking Torrecilla beach.
There are 234 guestrooms divided over seven floors and the rooms include: * Bathroom with bidet * Hairdryer * Carpeted floor * Telephone * Central air conditioning/heating (according to season) * Ceiling fan * Mini-bar * Satellite TV * Music channel * In-room safe (additional charge) * Balcony or terrace * Most rooms with front or partial sea view * Inter-connecting rooms available.
There are also Junior suites with a separate living room. The gardens are spacious, there is a large swimming pool and a poolside snack bar. Options are Bed & Breakfast or Half Board (breakfast and dinner).
Formal dress is required for dinner (long trousers for gentlemen). Suggestion: Opt for Bed and Breakfast and try some of the hundreds of restaurants in Nerja, gives you more options and more variety. Also, try booking your accommodation direct, can work out cheaper!
Hotel Riu Monica
Playa de la Torrecilla
29780 Nerja
Tel: (34)952521100
Fax: (34) 95 252 11 62
E-Mail: hotel.monica@riu.com
Hotel Balcón de Europa ****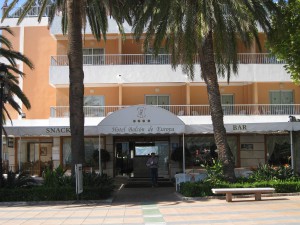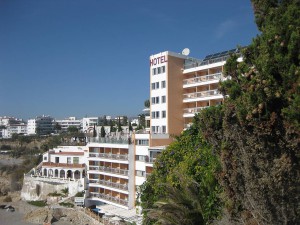 The Hotel Balcón de Europa is situated right in the heart of Nerja, which means it is ideally located for shops, bars, restaurants or whatever.
The hotel has 79 rooms with balcony and sea view and 31 standard rooms without balcony or sea view. The standard rooms either overlook and indoor patio or the town. Due to the hotel being built into a rock face, the main entrance (on the Balcón de Europa promenade) is actually on the sixth floor.
The hotel has a semi-private beach which includes a lunchtime restaurant. The main restaurant is on the fourth floor. It has all the facilities you might expect with a four star hotel.
Hotel Balcón de Europa
Paseo Balcón de Europa 1
29780 Nerja
Tel: (0034) 952 520 800
Fax: (0034) 952 524 490
www.hotelbalconeuropa.com
reservas@hotelbalconeuropa.com
Parador de Nerja ****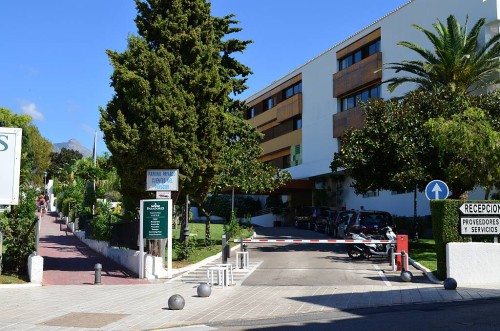 The Parador de Nerja is a large hotel built on top of a cliff giving it magnificent views out to sea and it has its own lift down to the beach for its patrons.
It has a seasonal swimming pool, tennis court, bar, restaurant, bureau de change, conference facilities, air conditioning, heating, well-maintained garden area, parking (limited) and free WiFi and many other services.
Parador de Turismo de Nerja
Calle Almuñécar 8
29780 Nerja
Te.: 95 252 00 50
Fax: 95 252 19 97
Email: nerja@parador.es
Web: www.parador.es
Hotel Al-Andalus ***
The Hotel Al-Andalus is located about 200 metres from the entrance to the famous Nerja Caves in the village of Maro.
The hotel has 38 rooms, a garden and terrace, swimming pool, restaurant and cafeteria and also has the facilities for reunions, conferences or other events. There is free WiFi internet.
Hotel Al-Andalus
Calle Siroco s/n,
Cueva de Nerja – Maro.
Tel: 95 252 96 48
Fax: 95 252 95 57
Email: lorenzor@tiservinet.es
Web: www.lorenzoreche.net
Hotel Carabeo 34 ***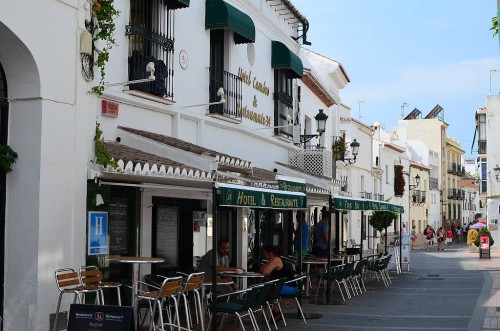 The Hotel Carabeo 34 is in the heart of Nerja and features seven rooms and suites, swimming pool and the renowned Restaurant 34.
Originally a schoolhouse, the hotel is privately owned and opened its doors in 1996. Located on the pedestrianised Calle Carabeo, the hotel sits on the cliff edge overlooking the beach and the Mediterranean sea.
Facilities include Restaurant, Tapas Bar, residents' swimming pool, wifi in all common areas, night porter and reception team to organise any excursions you might want to take including trips to Granada, Sevilla, Cordoba and Malaga, helicopter rides, private power boat (full or half day), car hire, and tickets for events and tourist attractions.
Hotel Carabeo 34
Calle Hernán de Carabeo 34
29780 Nerja
Tel: 95 252 54 44
Fax: 95 252 26 77
Email: info@hotelcarabeo.com
Web: www.hotelcarabeo.com
Hotel Jimesol ***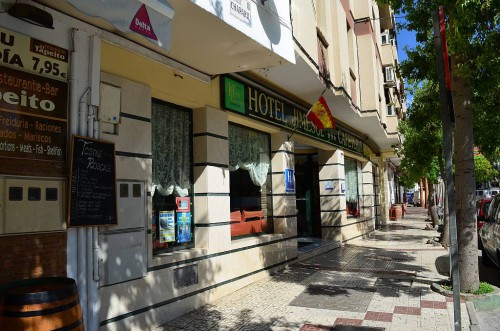 The Hotel Jimesol is located on calle Chaparil, only a couple of minutes walk from Torrecilla beach and just a five minute stroll from the Balcón de Europa.
The hotel has 58 rooms equipped with air conditioning and central heating, bathroom, TV and telephone. There is a restaurant with buffet service ( dinner + breakfast), computers with Internet access ( €1 for 12 minutes), WIFI at reception, small open air swimming pool, reading room, solarium and cafeteria.
Hotel Jimesol
Calle Chaparil 6
29780 Nerja
Tel / Fax: 95 252 58 88
Email: info@hoteljimesol.com
Web: www.hoteljimesol.com
Hotel José Cruz ***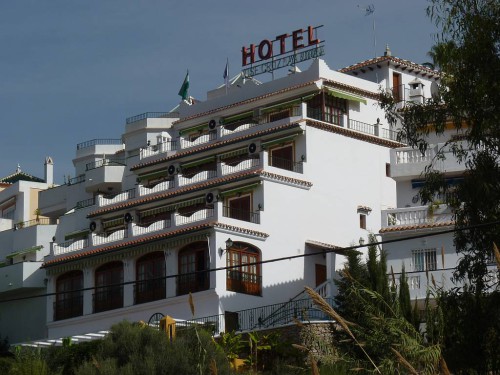 The Hotel José Cruz is a fairly modern building overlooking Burriana beach at the eastern end of Nerja. There are 18 rooms distributed over three floors.
Hotel José Cruz
Playa de Burriana
C/ Lucena 60
29780 Nerja
Tel: 95 252 44 46
Fax: 95 252 68 29
Email: info@hoteljosecruz.com
Web: www.hoteljosecruz.com
Hotel Nerja Princess ***
This small hotel is located in calle Los Huertos in the heart of Nerja, close to all amenities. It has 20 rooms and all have cable television, Digital Plus channels, background music, telephone, air-conditioning, heating, a mini-bar, safe, full bathroom with hair dryer and a terrace or balcony.
The Nerja Princess also has a meeting room, TV lounge with a small library and table games, a snack-bar, its own laundry service, a terrace with swimming pool and a Jacuzzi and sauna.
Hotel Nerja Princess
Calle Los Huertos 46 bis.
29780 Nerja
Tel: 95 252 89 86
Fax: 95 252 37 44
Email: info@hotelnp.com
Web: www.hotelnp.com
Hotel Perla Marina ***
The 4 star Hotel Sercotel Perla Marina is situated in calle Mérida and overlooks El Chucho beach. It is about a ten minute walk, slightly uphill, to the Balcón de Europa. Plenty of very good abrs and restaurants in the area.
The Hotel has a total of 197 rooms and the facilities include a bar, restaurant, garage, covered outdoor swimming pool, reading room, laundry service, coffee shop and free newspapers.
Hotel Perla Marina
Calle Mérida 7
29780 Nerja
Tel.: 95 252 33 50
Fax: 95 252 40 83
Email: info@hotelperlamarina.com
Web: www.hotelperlamarina.com
Hotel Playamaro ***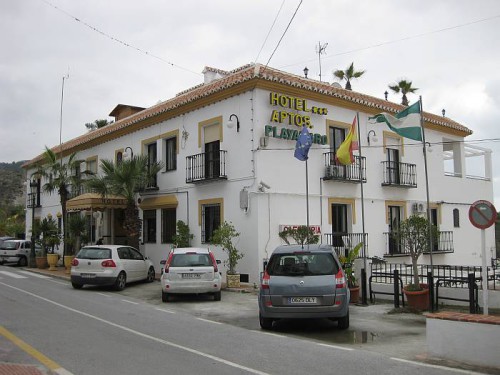 Hotel Playamaro
Calle San Miguel 28 – 33 Maro
Tel.: 95 252 95 82
Fax: 95 252 66 12
Email: hotelplayamaro@terra.es
Web: www.hotelplayamaro.com
Hotel Plaza Cavana ***
The Hotel Plaza Cavana is very centrally located and, therefore, close to all amenities and services.
All rooms have air conditioning, satellite TV, telephone, mini bar, safe and hair dryer. Facilities include a restaurant, bar, solarium and swimming pool.
Hotel Plaza Cavana
Plaza Cavana 10
29780 Nerja
Tel: 95 252 40 00
Fax: 95 252 40 08
Web: www.hotelplazacavana.com
Hotel Villa Flamenca ***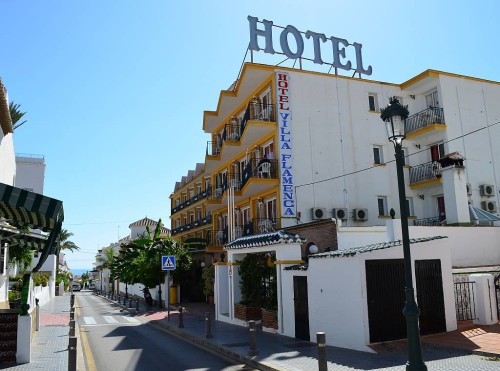 Hotel Villa Flamenca
Calle Andalucía 1
29780 Nerja
Tel: 95 252 32 00
Fax: 95 252 21 96
Email: flamenca@spa.es
Web: www.hotelvillaflamenca.es
Hotel Los Arcos ***
Hotel Los Arcos
Urb. Nerja Golf
Ctr. Málaga – Almería, Km. 293
29780 Nerja
Tel: 95 252 66 70
Email: info@hotelosarcos.com
Web: www.hotelosarcos.com
Hotel Casa Jardin
Casa Jardin
Calle Carabeo 11
29780 Nerja
Tel: +34 952 527 202
Fax: +34 942 527 006
Email: info@casajardin.co.uk
Hotel Mena Plaza **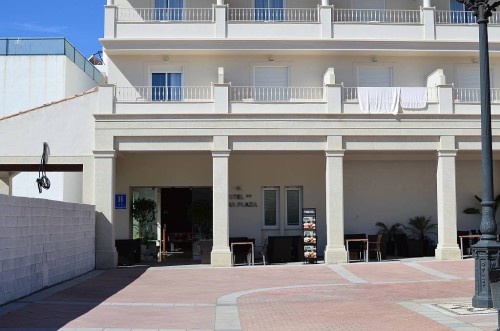 Hotel Mena Plaza
Plaza de España
29780 Nerja
Hotel Bajamar **
Hotel Bajamar
Avda. Castilla Pérez 4
29780 Nerja
Tel: 95 252 32 04
Fax: 95 252 72 88
Email: hotel_bajamar@terra.es
Web: www.hotelbajamar.com
MB Boutique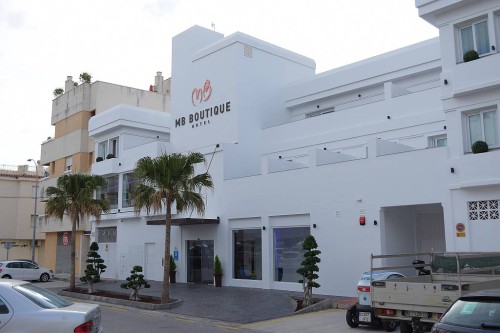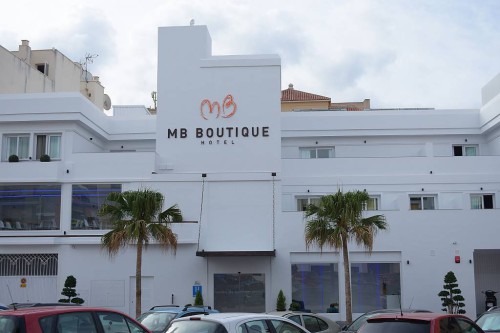 MB Boutique
Plaza Chaparil s/n.
29780 Nerja
Tel: (0034) 95 200 05 45
Email: info@mbboutiquehotel.es
Hotel Nerja Club **
Hotel Nerja Club
El Capistrano
29780 Nerja
Tel: 95 252 01 00
Hotel Paraiso del Mar **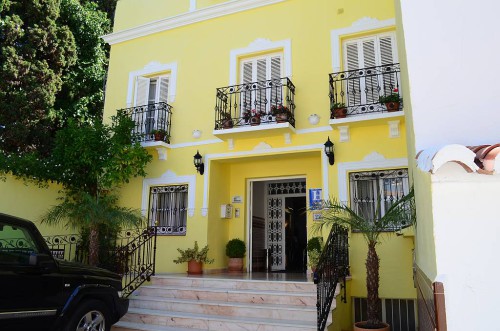 Hotel Paraiso del Mar
C/ Prolongación de Carabeo 22
29780 Nerja
Tel: 95 252 16 21
Fax: 95 252 23 09
Email: info@hispanica-colint.es
Web: www.hotelparaisodelmar.es
Hotel Puerta del Mar **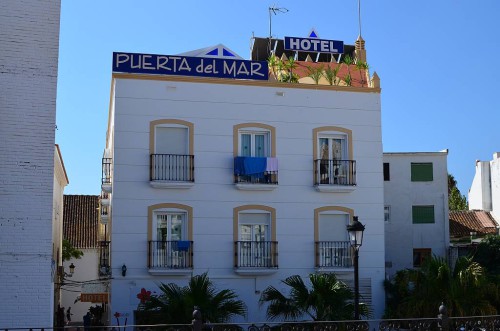 Hotel Puerta del Mar
Calle Gómez s/n.
29780 Nerja
Tel: 95 252 73 04
Email: hotelpuertadelmar@telefonica.net
Hotel California *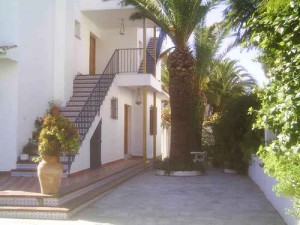 Hotel California
Calle María de Waard 21
29780 Nerja
Tel./Fax: 95 252 62 53
Email: info@elhotelcalifornia.com
Web: www.elhotelcalifornia.com