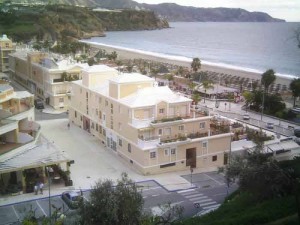 Just set back from Burriana beach you have a street containing a row of apartments blocks: Phase 1, Apartamentos Burriana Playa, Tropicana 1 and 2, Edificio Sol, Edificio Tarragona, Edificio Ronda, Nerja Bahia Apartamentos and Edificio Carmona.>
North is a view of the road and a cliff face in most instances, south is a view of the beach and out to sea.
On the southern side, the ground floor is occupied by bars, restaurants and other commercial premises.
The blocks are all modern and generally equipped with all mod cons, although individual apartments will, of course vary.
In the immediate vicinity you have numerous bars, restaurants (see Bars and Restaurants), souvenir shops, an ATM, a dive centre, a supermarket open seven days a week and, of course, the beach.
The town centre, Balcón de Europa, is not actually far away and can be reached on foot in about twenty minutes. However, there is a steep hill to be negotiated, known locally as Cardiac Hill. Coming back from the centre is no problem, it's all downhill!
There is at present (for some strange reason) no bus service from Burriana beach, so it's on foot, by car or by taxi.
[googlemap lat="36.7509028602068″ lng="-3.8678956031799316″ width="600px" height="400px" zoom="14″ type="G_NORMAL_MAP"]Edificio Sol[/googlemap]