Nerja makes a good base from which to explore the area, be it the Axarquia, Málaga province or even farther afield in Andalucia. Some of the places and activities can be easily reached, sometimes within a few minutes, by car or public transport, others require a bit more planning.
Places to visit – not far from Nerja
Frigiliana
The picturesque hillside  'white village' of Frigiliana is just ten minutes away by car or 15 minutes by bus and is well worth a visit.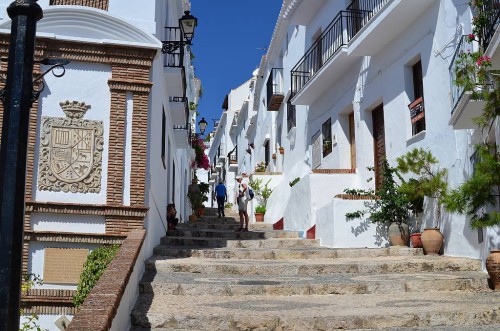 Narrow, cobbled streets, a museum, local Muscatel wine, magnificent views, excellent walks, great restaurants and more. You can find more detailed information on how to get there, sights, photos and videos etc here: Frigiliana.
La Herradura
La Herradura is a small beach resort – the beach is horseshoe-shaped, hence the name of the town – and well worth a visit. There are some very good restaurants and beach chiringuitos.
Also worth a visit is the picturesque Marina del Este.
From Marina del Este you can take a trip out along the coast.
Sailing Charters aboard a luxury 38' (11.5m) catamaran from Marina del Este, La Herradura (20 mins. from Nerja). Great day out for all the family, parties especially welcome. Prices from €55 inclusive of all drinks and gourmet meal onboard. Watch the video opposite or visit www.sailandstay.eu for more information. Tel. 618 972 139
The journey from Nerja to La Herradura along the old N-340 coast road is windy and picturesque with magnificent views down to the sea and further up into the hills. Almost worth going to La Herradura just for the scenic journey.
This section of the N-340 is, however, classified as one of the most dangerous roads in Spain in terms of accidents so do take it at a leisurely pace.
Almuñecar
The town of Almuñecar is on the Costa Tropical in Granada province and can be reached in about 20 minutes by car or 30 to 40 minutes by public transport. Apart from some excellent beaches, the town has much to offer, such as an Aquarium, the El Majuelo Botanical Gardens, ancient ruins, a Bonsai Garden, a Bird Park and Cactus Garden, museums, a castle and narrow, winding streets in the old town, great bars and restaurants and much more.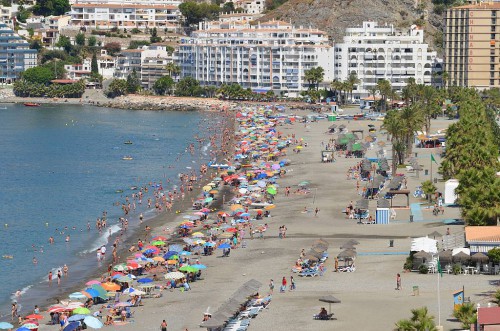 Although only 20 minutes away, definitely worth making this a day trip as there is so much to see. You can find detailed information, photos, map etc here: Almuñecar
Torrox
Nine kilometres from Nerja along the old N-340 coast road is Torrox Costa and a further four kilometres inland is the whitewashed hillside village of Torrox Pueblo.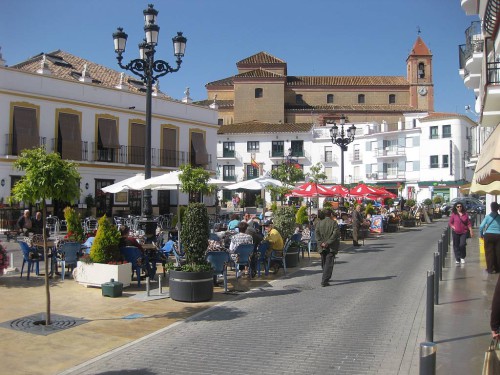 Torrox Costa has some very good beaches, a long promenade, a multitude of bars and restaurants with prices generally a little cheaper than in Nerja, a lighthouse and easy parking. You can find detailed information, photos, videos etc here: Torrox
Torre del Mar
Torre del Mar, in the municipality of Vélez-Málaga, is a seaside resort with one of the longest and widest beaches along the coast. There is a long promenade, plenty of beach chiringuitos and restaurants, water sports to suit all tastes and palm trees full of wild Parakeets.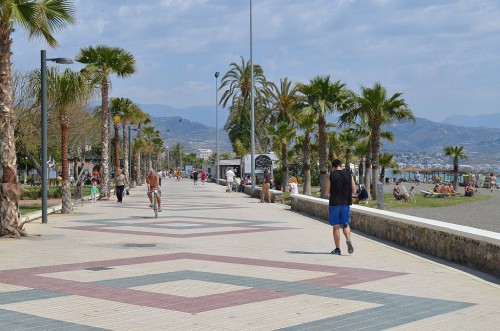 Torre del Mar is about twenty minutes from Nerja by car, around 40 minutes by bus.
There is also a large water park, shopping centre, bowling alley and gokart track.  You can find detailed information, photos, videos etc here: Torre del Mar
Competa
The town of Competa is not far from Nerja, about 25 kilometres, but there is no public transport between the two towns so a car is necessary.
Cómpeta, with its labyrinth of narrow cobbled streets dating back to Moorish times, sits seven hundred metres above sea level and affords stunning views of the surrounding Tejeda and Almijara mountains, countryside and Mediterranean. Competa
Places to visit – Comarca de la Axarquia
The Comarca de la Axarquia – Axarquia District – is a 1,021 square kilometre district at the eastern end of Málaga province in the autonomous region of Andalucia. It stretches from the Mediterranean coast, with its numerous beach resorts, through fertile lowlands and hills sprinkled with almond trees, olive trees, grapevines and poppies up to the high Sierra de Tejeda, Almijara and Alhama mountain ranges.
Here you will find the so-called 'white villages', their design and appearance the influence of the Arabs of the Al Andalus. There are 31 municipalities within the Comarca de la Axarquia, with the capital in Vélez-Málaga.
Alcaucín, Alfarnate, Alfarnatejo, Algarrobo, Almáchar, Árchez, Arenas, Benamargosa, Benamocarra, El Borge, Canillas de Aceituno, Canillas de Albaida, Colmenar, Comares, Cómpeta, Cútar, Frigiliana, Iznate, Macharaviaya, Moclinejo, Nerja, Periana, Rincón de la Victoria, Riogordo, Salares, Sayalonga, Sedella, Torrox, Totalán, Vélez-Málaga, La Viñuela
The Costas
Costa de la Luz
The Costa de la Luz is the western part of the Andalucía coastline and faces the Atlantic ocean. The sand is a fine, golden colour and typical beaches are large and often characterised by sand dunes and pine trees.
This part of the coast has not seen the high-rise hotel development of other areas. The often strong Atlantic winds and waves are favoured by wind surfers and surfboarders. Stretches of cliffs and coves are found to the east near Barbate and around the Campo de Gibraltar.
The Costa de la Luz 'Huelva Province' stretches from the Portuguese border to the Donaña National Park and the River Guadalquivir, and the Costa de la Luz 'Cadiz Province' stretches form the River Guadalquivir to Tarifa at the mouth of the Mediterranean. Travel from one section to another requires a long drive via Sevilla.
Costa del Sol
The Costa del Sol stretches just over 150 kilometres either side of Málaga city in Málaga province and is one of Spain's most popular tourist destinations. The mild climate allows for a wide variety of outdoor activities all year round.
Eastern Costa del Sol: This is a 54 km stretch of coast to the east of Malaga city which ends at Maro. The principal urban centre is Nerja.
Western Costa del Sol: This is a 100km of coastline that begins at Málaga city and stretches westward all the way to the border of Cádiz province. This part of the coast is highly developed, both in terms of property and infrastructure. Malaga International Airport, the gateway to the southern costas, is 8 km west of the city.
Costa Tropical
The Costa Tropical, Granada province, continues eastwards from where the Costa del Sol ends. Mountains run right down to the sea and the coastline is a series of coves and promontories. Towns include La Herradura, located between the two promontories of Punta de la Mona and Cerro Gordo, Almuñecar and the white village of Salobreña
Costa Almeria
The Costa Almeria is next and is very much unspoilt. To the east of Almeria is the rugged and desolate coast of the Cabo del Gato-Nijar natural park, an arid desert landscape with a very low population density. Many of the coves can only be reached on foot and the area is particularly popular with nature lovers and back-packers.
The most popular coastal village is San José. West of Almeria are the highly developed tourist resorts of Roquetas de Mar and Aqua Dulce and the old fishing port of Adra.