Irish Annie's
Edficio Algarrobo Bajo
29780 Nerja
Tel: (0034) 95 252 67 47
Email: irishanniesnerja@hotmail.com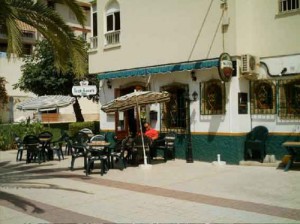 There are two choices of the Irish stuff, either Guinness or Murphy's Red, plus draught Budweiser and Estrella Damm, Magners Cider in pint bottles and Bulmers Cider.
Annie has a wide selection of Irish Whiskies as well as the normal choice of spirits and soft drinks. Also on offer is a proper Irish Coffee, using Irish Whisky and fresh cream.
Irish music is the norm here, including 'live' sessions.
Irish Annie's has an outside terrace in a quiet pedestrianised Plaza, an ideal place for a drink in the cool of the evening or to enjoy a freshly made sandwich.
All major Irish sporting events are available on RTE….
Children are not allowed in the bar after 9pm (but are welcome on the terrace)
To keep the atmosphere a bit less 'touristy' Annie asks that ladies and gentlemen do not dress as if they are on the beach. A t-shirt top is all it takes!
Opening Times:
Open every day from 12 noon until late.
Fun quiz nights evry Monday from 21:00 (ish)
Live music every Wednesday and Saturday from 21:30.
On June 14th 2009, Irish Annie's celebrated its 7th birthday.