It may have gained the nickname the 'Wally Trolley' along the way, which some people do seem to dislike. but so what? It's still a great way to get around and great fun when it's full of Spanish tourists 'cos it's singing, clapping and waving all the way.
Before becoming the 'Wally Trolley' it had other nicknames, such as the 'Noddy Train', and one thing becomes quite clear. People prefer to call it something other than the official name appearing in tourist brochures or official documents, such as 'Tourist Train' or 'Mini Train'.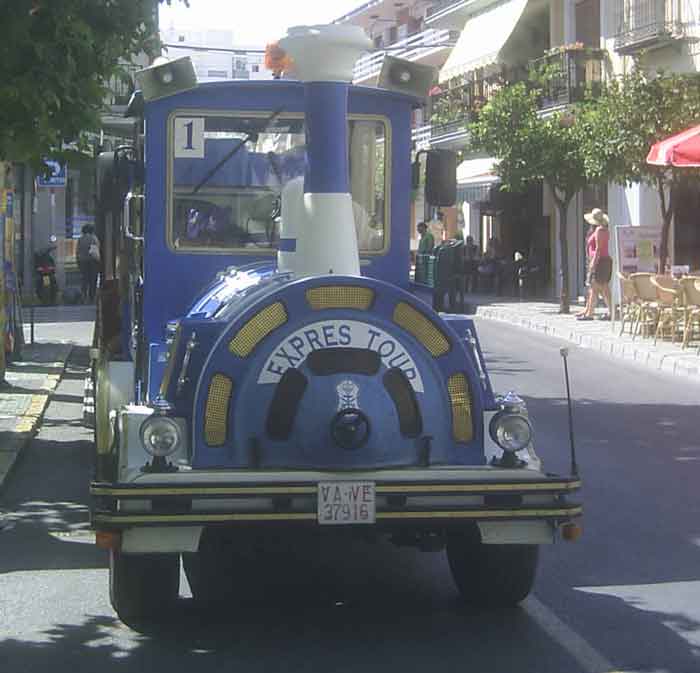 The term 'Wally Trolley' was, undoubtedly, initially used as a disparaging reference to those people using this particular form of transport, but I would say that this has changed somewhat and now refers equally to the mode of transport itself.
I would say, and again, there are those who would possibly disagree, that the term has taken on a more affectionate connotation rather than a derogatory one.
It has also caught on amongst the users, most notably tourists. I was standing behind a family recently and the mother asked the question, 'shall we be Wallies?', to which the reply from the rest of the family was an enthusiastic 'yes'. You could see the relief on her face 'cos she was obviously dying to get on the thing.
Until fairly recently, although the 'Wally Trolley' is ostensibly a sort of sightseeing tour, you didn't actually have to complete the full circuit in one go, you could get on and off at certain points and complete your journey later in the day if you so desired.
However, such stopping points have unfortunately disappeared following pressure on the local authorities by taxi drivers who, apparently, felt their livelihoods being threatened as people started to use the train to get home at night rather than solicit their slightly more expensive services. Pity.
These trains are robust creatures and can negotiate steep hills as well as navigate narrow streets, and would make an ideal public transport system for a small town if the ticket price could be kept at a reasonable level. The current 'tour' price of €4, whilst reasonable for a holiday sightseeing tour, would be outrageous for a local transport system. One can only assume, and it's a big assumption, that feasibility studies on the subject have been carried out.
As for improvements to this great system, my own personal choice would be a 'Thomas' style face on the front of the engine!
There are Wally Trollies in Nerja, Marbella, Fuengirola, Coín, Ibiza and Jerez to name but a few, so get yourself a Wally Pride T-shirt and have fun!