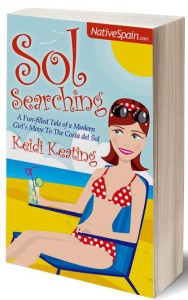 There's a new book on the shelves, a sort of modern girl's guide to the Costa del Sol if you like, an enlightening yet light-hearted account of a young girl relocating to Spain to start a new life and maybe, if all goes well, turn a dream into reality.
But first, a bit of background on the author.
There are a lot of free magazines and newspapers available along the coast and in all sizes, and one of my own favourites has always been The Sentinella. It was one of the first, if not the first, of the A5 handy-mags, and is a nice mixture of serious and humorous articles.
It was started many years ago by the late Colin Checkley but for the past few years has been in the capable hands of one Keidi Keating.
At the tender age of 23 years, Keidi decided to leave England and try to make her way in Spain, never an easy task as many will only too willingly testify. Always one for keeping a diary, she continued to keep a note of everything, the ups as well as the downs.
As one does, of course. You never know when it might come in handy, either for writing your memoirs or for blackmail purposes. In this case, though, it turned out to be for the writing of a book.
Having overcome the many challenges that relocating, particularly to a different country, and starting a new life from scratch can throw at you, Keidi decided it might be a good idea to write a book about her experiences and from a young person's perspective, most similar books being by somewhat older authors.

Anyone who reads The Sentinella, or Keidi's personal blog, will be aware of her humorous and light-hearted style and approach to almost everything and she carries this over into the book which, by the way, is called 'Sol Searching'.
'Sol Searching is available online from Amazon books, price £9.49 or, alternatively, from The Sentinella stall at the Tuesday Farmer's Market in El Trapiche if you happen to be passing!
Here's a sample of the reviews of the book but the best thing to do, of course, is to get yourself a copy. And maybe you can add your own review here after you've read it!
An enlightening and humorous journey of a determined young lady, with the guts to turn her dream into a reality. I laughed so hard at certain chapters I nearly fell off my chair. I only hope there'll be a part two."
Steve Hall ThisisSpain
Sol Searching is the unusual tale of a young woman battling the odds to create a new life for herself in Spain, whilst setting up a successful new magazine. Brutally honest and engaging, Sol Searching should be read by anyone thinking of moving to a different country.
Nick Snelling, author of Taking The Heat
Well done Keidi, your book is great. I couldn't stop giggling from the time I picked it up till the end of Chapter 24. I love your light-hearted approach and some of your character descriptions. I hope you'll be writing more books in the future.
Mandy Rogers
This is an excellent, read – one I could not put down until I had finished the last page only yesterday. It had me laughing, crying and nodding in agreement throughout. I can relate well to this book, being a similar age to Keidi and having moved to Singapore on my own to start a new life adventure. Many of the quirky stories I can relate to so
well, as I am sure many other 20 somethings can, whether living in a new country or not! This book has inspired me to continue living out my dreams abroad. Well done Keidi on a book well written. I look forward to reading more in the future.
Mary Clauster
Order your copy now.
Sol Searching: A Fun-filled Tale of a Modern Girl's Move to the Costa del Sol