Here is the latest news from the newly formed Nerja Green Party who have been out and about in the municipality.
During one of our hiking walks, photographs taken by the Green Party of Nerja show the existence of an illegal landfill in the disused quarry by the Rio de la Miel. This is in the middle of the natural park of Sierra Tejeda, Almijara and Alhama.
We have been in contact with the Ministry of the Environment and the municipality and issued reports for corrective action. According to the words of The Nerja Greens spokespeople Antonio Puerta and Laura Fernandez, "it is unacceptable that in the very nature reserve debris and garbage has been thrown out. The Greens will always be attentive to report these atrocities and we encourage all citizens and our authorities to ensure protection of our nature. Together we can all preserve the nature around us"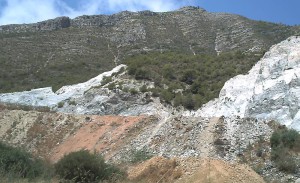 After our photo walk up the Rio Chillar the Nerja Greens discovered a series of irregularities and acts of vandalism in the park, which we reported to the council and the Ministry of the Environment.
We have found a multitude of painted rocks done by graffiti artists. These acts deserve condemnation but the names of the vandals are unknown.
The audacity was that in the very entrance of the park they left a record of all their names. We therefore call for an investigation and we are willing to cooperate by providing photographic evidence of all the graffiti and the names of the perpetrators, but we do not know their real names. There are more than six panels painted on the rocks in this beautiful place.
On the other hand we also ask for a restriction to be placed on motorized access to the park especially at weekends as there are more than 100 cars, some of which drive up the river bothering walkers who are trying to find a little peace and experience nature for the weekend and escape honking cars etc …
We have agreed with the Environment Council to organise a conference of environmental volunteers in the near future to clean up graffiti. We hope to get the cooperation of everyone and set an example of our commitment to nature.