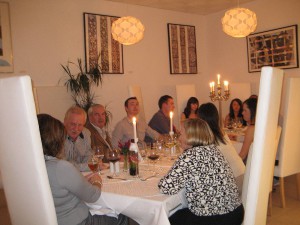 Next week Monday, February 14th, is St Valentine's Day, a time when flowers and gifts are exchanged between loved ones, all in the name of St. Valentine. The history of Valentine's Day, and its patron saint, may be shrouded in mystery, a mixture of myth and legend, but it is celebrated all over the world, with one billion valentine cards sent each year, making Valentine's Day the second largest card-sending holiday of the year.
Another popular tradition on St Valentine's Day is taking a loved one out for a romantic, candlelit meal, so here's a local suggestion, Restaurant First.
Restaurant First is located on the N-340 right next to the Marinas de Nerja Hotel, easily reached by car, bus or even on foot.
The restaurant, run by Simona and Tina, is on two levels, with a spacious and relaxing bar area upstairs and the restaurant itself downstairs.
The cuisine is Spanish and International, and the restaurant prides itself on quality food and excellent service whilst still remaining eminently affordable and providing value for money.
Tastefully decorated with a basic 'white' theme, Restaurant First would make an excellent venue for that special St Valentine's meal.
You can find more information, and the contact details, on their website – www.firstnerja.com – but in the meantime, here is their St Valentine menu.