The Nerja History Museum opened its doors to the public for the first time on Friday March 25th, holding an Open Day before the official inauguration.
The museum is tucked away in the top left corner of Plaza de España (when entering from the Town Hall end). The museum has three floors and there is also a basement area for special exhibitions or events.
Built at a cost of around €5 million and covering a total of 1,800 square metres, the museum traces the history of Nerja from the cave dwellers of the Paleolithic era to the boom years of the 1960's.
Turn right after entering the museum and your tour of the History of Nerja begins. There is a correct route to follow in order to view the exhibits in a (chrono)logical sequence, although this has yet to be made clear to the visiting public. If you started heading the wrong way round (which I did, naturally), one of the assistants would wander over and point you in the right direction.
So, first you head up the stairs and then slowly make your way back down via the walkways. Anyone with mobility problems will have no trouble on the anti-slip walkways.
The first impression is one of space, especially with the current, almost minimalistic approach, although one assumes that the number of exhibits will expand in the future. One good idea put forward recently was to ask local residents to contribute suitable and relevant items.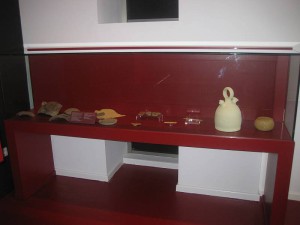 It is a museum relating to the history and development of Nerja through the ages and it is highly likely that local residents are in possession of relevant artefacts, relics or items of significant or special interest. Whether this will come to fruition, though, is anyone's guess.
The bulk of the exhibits are in the form of information panels, projections and computerised content. Panel texts are in both Spanish and English but spoken commentaries appear to be only in Spanish, at least for the moment.
Billed as a 'tourist attraction', one might expect commentaries to be in several languages but, the way it is currently set up, this does not look to be a practical proposition. Having multiple (large) screens would not be practical, neither would having sequential monologues in various languages as the commentaries (and in one case a scene from history) are quite long.
All in all, a good start for the Nerja History Museum with plenty of opportunity for it to grow over time.
The only unfortunate aspect is that the museum is scheduled to close again immediately. The whole project has been very much in the political arena, a sort of party political football, with many, and often bitter, disputes between the promoters of the project, The Nerja Caves Foundation (PSOE controlled) and the Nerja Council (PP controlled).