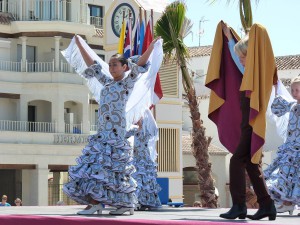 The annual Residents Day – Dia del Residente – in Nerja was postponed from April 3rd due to the threat of bad weather, and what a difference a week made.
Clear blue skies and blazing sun were the order of the day in the newly inaugurated Plaza de España in Nerja.
A total of 38 local groups and associations took part in the event and the stage was the scene of varied entertainment throughout the hot afternoon. Dance groups, flamenco guitar, electric violin, medieval music and choirs were all on offer.
Proceedings began with a performance by the Nerja Municipal Band followed by welcome speeches from, amongst others, the Mayor of Nerja, José Alberto Armijo, and the Councillor for Foreign Residents, Emma Hall. The Mayor and his entourage then visited a number of the stands and the Mayor even had himself weighed by the Weight Watchers team.
In fact, members of several of the local political parties could be found making the rounds of some of the association stands. One could be forgiven for thinking that maybe there is an election looming.