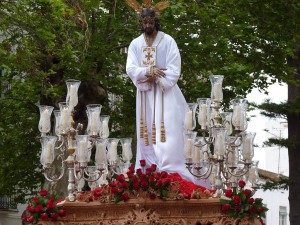 An overcast Miercoles Santo but the rain stayed away for the procession in Nerja.
The procession of Nuestro Padre Jesús Cautivo y María Santísima de los Desamparados left the Iglesia Parroquial El Salvador on the Balcon de Europa at little after six in the evening and began its slow journey through the streets.
The two, heavy thrones inched their way along (one time the metric system falls short), the young bearers swaying rhythmically from side to side to the accompaniment of the musical bands and with the smell of burning incense filling the air.
Two very good thrones, well crafted as usual, and the Balcon de Europa was fairly crowded as residents and visitors alike came to enjoy the spectacle. Miercoles Santo Photos