Busy, vibrant and excellent describes La Puntilla in calle Bolivia, Nerja. As a first tapa I had 'Morcilla' (blood sausage/black pudding) served between two pieces of bread (sometimes called a sandwich I believe). Well cooked and very tasty.
There was a heart-stopping moment when I noticed my glass had San Miguel 0,0 on it and the pump out of which the beer came also bore the same sticker, but this turned out to be a false alarm and after some CPR I was able to continue.
My second dish was fish. Not sure what make but it was a fillet cooked with garlic and olive oil. Very tender, melt-in-the-mouth 'fish' it was.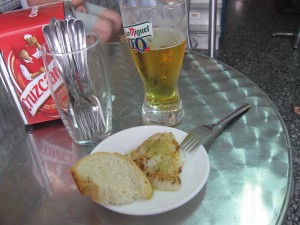 There were three barmen rushing around behind the bar making sure no-one had to wait too long to be served, one of them even finding time to suddenly burst into song.
A beer and a tapa, €1.40. Good value these days in anyone's books.