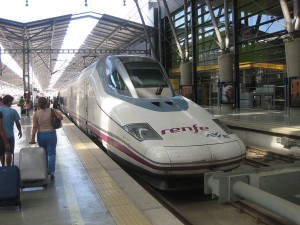 The AVE high-speed train service arrived in Málaga some time ago now, and from day one I have wanted to try it out, mostly out of curiosity rather than to get anywhere in particular at a rate of knots.
I finally got round to it the other day and headed off to Málaga Maria Zambrano station to buy a ticket to Madrid. The ticket was €143 return which, although not cheap, was comparable to the cost of flying on that particular day, but without the expense and hassle of getting to and from airports. Madrid's Atocha station, a multi-level marvel with birds flying around, cafes everywhere and a pond full of turtles, is in the heart of the city.
The carriages on the AVE were clearly numbered and there was a smartly dressed attendant at each door to offer assistance if needed. I thought it was all clearly enough signed so as to be almost impossible to end up in the wrong carriage or seat, but I was swiftly proven wrong. It wasn't me, though. This time.
The seating is very comfortable, there is plenty of leg room, a foot rest if you need it and there is a media centre where you can plug in headphones – given out free at the start of the journey – so you can listen to music or watch the film being shown en route.
The train pulled out bang on time and quickly began to gain speed. There is a screen showing, amongst other things, the actual speed of the train. It is not long before you see the speed reach speeds of 270 kph or more and on a few occasions it peaked at 300 kph.
One of the things I was curious about was whether, unlike in a plane, you actually experience a sensation of speed. In a plane, apart from take-off and landing, you would hardly know you were moving. I was hoping the high-speed train would be different.
But it wasn't, so minor disappointment there. Two hours and thirty-five minutes later I was in Madrid's Atocha station, the home of the AVE service.
So, a journey time of 2′ 35″ from city centre to city centre, on this occasion at a price very similar to the cost of a return flight on Iberia Express. Although the flight is only 1 hour 15 minutes, once you've added on travelling time to and from airports from the city centre, arrival at airports an hour before flights etc, it is actually quicker by train.
It is also more comfortable, you can walk around, there is a buffet car, a film and scenery. Altogether far less tiring as a whole.
The AVE or 'bird' – I think I managed to track down the model they used for the design.