Time to try out The Good Stuff, a new cafe on the corner of avenida Castilla Perez and calle San Miguel, Nerja.
The interior is quite spacious with simple but nice decor and there is a small terrace on the street.
In the display cabinet is a mouthwatering array of cakes and pastries. Carrot cake, brownies, scones and loads more. I decided upon tea and a berry magdalena/muffin.  The pot of tea was enough for three cups and the magdalena….a delight.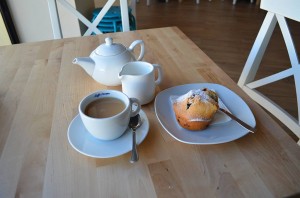 Reckon this is going to be a regular haunt. Pot of tea and bun…€3.50 (tea €1.50, bun €2.00). Excellent place.