Tried the new Steakhouse at Burriana on Saturday evening, curious to see what it was like. Steaks, naturally, and various large burgers are the main items on the menu.
The restaurant, just before the bottom of calle Filipinas, is quite large – was formerly Cosmopolitan – and has plenty of terrace area.
Sirloin, entrecote, rib-eye and t-bone (all at 400g) and rump (250g) are all on the menu. Hadn't had a t-bone for yonks so decided to give it a go. It was served on a large wooden platter along with some green stuff and a separate tub of fries. I chose a pepper sauce as a garnish.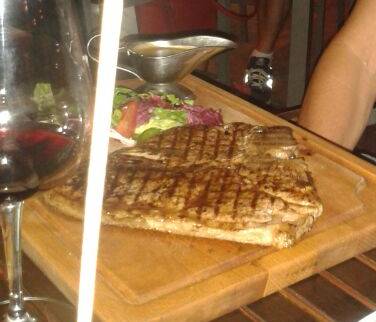 The meat was tender and very tasty andthe fries were excellent, some of the best I have had in a long while. Couldn't fault the service, helpful and attentive without being intrusive. Top marks.
Not the cheapest place in town, but definitely worth it.