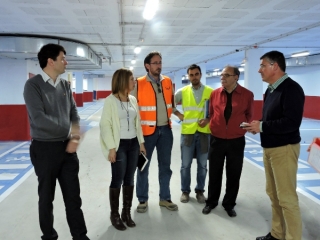 The mayor of Nerja Jose Alberto Armijo has announced that the new underground car park at Burriana Beach will be open in time for the summer. It is expected that the car park will be fully operational by late May or early June after the necessary authorisations and licences are obtained. There will be 241 car parking spaces available over 3 subterranean floors in the new construction which will also include a tourist information office.
A new roundabout to regulate traffic access to the new car park is also in the process of being completed.
This becomes the fourth municipal underground car park in Nerja joining the existing facilities at the Balcon de Europa, Verano Azul and Sports centre and takes the total number of underground car parking spaces available to 1400.
*The council has also announced that 30 extra parking spaces have been created in the Campillo de Vidrio area of town (behind the town centre cemetery). The entire area has been laid with tarmac and reorganised so that it will now accomodate 80 cars.