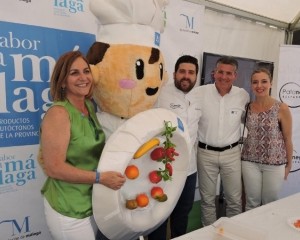 "Sabor de Málaga", the trade fair that was held during the last weekend in Plaza de España, closed with great success, as most of the manufacturers involved in it reported positively. In fact, they said that it was the best one that had been held on the Costa del Sol so far.
Among the activities held, "show cooking" was the most outstanding. The chef of the restaurant Pata Negra 57, Sergio Paloma, prepared some of their dishes at the event.
José Alberto Armijo, town's mayor said the fair was "a total success". He stated that "it has been a very important event for the tourist promotion of the food industry".
He also said that the presence of Nerja's businesses was very important for the fair and that "we should feel satisfied and proud of being able to offer through the Provincial Government and the town council, an image of involvement with the food industry and to promote tourism in the town of Nerja".
Meanwhile, Leonor García-Water, Deputy of Rural Economic Development thanked the city council having bet on the fair's success and she added that the most important thing is to promote Málaga's products "because it creates jobs and economic development".