Cafe Paris
Calle Chaparil
29780 Nerja
The Cafe Paris, located near the top end of calle Chaparil, Nerja, opened in June 2014.
The interior is spacious and the decor includes a number of paintings depicting Parisian scenes. Outside there is a small street terrace.
There is a good selection of tapas – pictured is 'carne con tomate – 'meat with tomato' – with fish, meat and salad dishes. A basket of bread and breadsticks accompanies the tapa.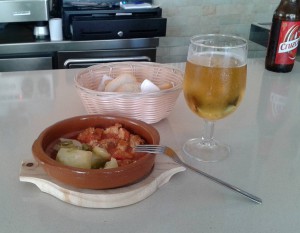 Excellent little bar, well worth frequent visits.