La Puntilla
Calle Bolivia
29780 Nerja
La Puntilla is another very Spanish tapas bar which gets very crowded, and noisy, at lunchtimes, hardly surprising as the tapas are excellent.
The speciality is fish, and there are loads to choose from, although meat dishes are also readily available. It is also a restaurant, so full meals are available and there is a small street terrace in summer. No tapas on the terrace, though, only inside.
The tapas are included in the price of drinks.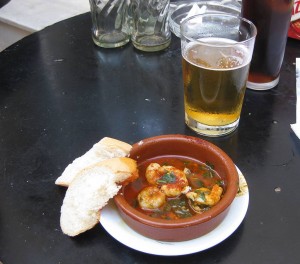 Recommended: Clams, sardines, boquerones, prawns….well, just about everything really.