Pizzeria Jimenez
Avenida de Pescia
29780 Nerja
Tel: (0034) 952 52 19 98
Tel: (0034) 952 52 39 86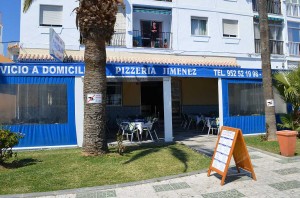 Very good pizzeria and Italian restaurant with a covered terrace. It is located near the roundabout on avenida de Pescia, opposite calle Rodrigues Acosta and the Iranzo supermarket.
Pizzeria Jimenez also has a take away and home delivery service.