La Fabrica
Avenida Mediterraneo
29780 Nerja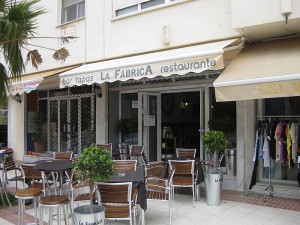 La Fabrica, a tapas bar/bodega/restaurant, is located on avenida Mediterraneo, almost opposite the Hotel Riu Monica, and opened at the beginning of March 2010.
The bar is fairly small, although not tiny and doesn't seem at all cramped, and is run by a couple who moved to Nerja from Paris last September. There is a terrace out on the pavement for those occasional sunny days.
There are two beers on draught and a good selection of wines. Tapas, small but delicious, are free with your drinks whether at the bar or at the tables.
Torrecilla beach is only a stone's throw away so a nice lunchtime haunt after catching a few rays.