Did the airport run by public transport yesterday, first time in a while, so for those considering this as an option for either going to or coming from Málaga airport, this is how it panned out.
It is quite a painless, and cheap, way of getting to or from the airport, €4.81 all told for a one-way journey, but even though it was a Sunday and fairly quiet on the roads, still a 6 hour round trip! The Nerja to Málaga single fare is currently €3.81 and €6.80 for a return.

Left Nerja bus station (alias a layby with a small ticket kiosk) on the 13:40 bus and arrived in Málaga bus station, platform 38, around 15:00. No time to hang about, so off to the bottom end of the station for the next stage of the journey.
Catching the first airport bus (number 19) that came along, I arrived at the terminal at 16:00, which was just in time for a flight due in at 16:15. And for once, the flight was on time! The roadworks, metro works or both make it take a fair bit longer to get to the airport, worse during weekdays, of course, and this situation is going to continue for quite some time yet. The airport bus costs €1and they do prefer you to have the right change or, at most, a small note.
Got out of the airport just before 17:00 and wandered to the bus stop, which is turn right out of the arrivals building and about 50 metres down the road. The bus into Málaga is supposed to run every half hour but again, due to the continuing roadworks, schedules can be somewhat haphazard at the moment.
Anyway, for some inexplicable reason, the bus remained stationary for what seemed like an eternity (but was probably only five or ten minutes) and this did have a knock-on effect. Arriving at Málaga bus station at 17:35, we had just missed a bus to Nerja and the next one was 18:45. Too little time to actually go anywhere and, being Sunday, the nearby Maria Zambrano shopping centre was closed, so it was a leisurely coffee, stick pins in a bus driver doll and watch the second half of Villarreal versus Deportivo.
Arrived back in Nerja at around 20:10….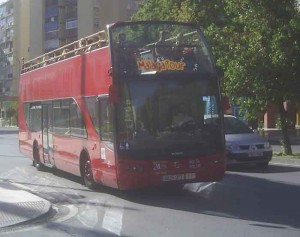 But not on this bus.