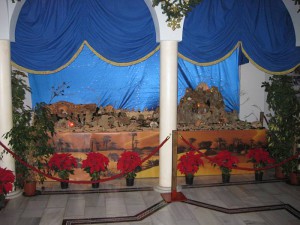 The exhibition Hall in calle Cristo (calle Almirante Ferrandis/Post office street) is currently home to the municipal Nativity Scene and it will be on show from now until January 6th 2010. The opening times are from 17:30 until 20:00.
The display is the legacy of Carmen Rodríguez, a málagueño by birth but long time resident of Nerja. The scene was displayed at the family home in Málaga from the turn of the last century.
Upon the death of her father, Carmen Rodríguez moved to Nerja, to calle Bronce to be exact, and continued to assemble the Nativity Scene until her death in 1970.
The tradition was then carried on by her nephews and nieces, notably Celestino Jaime and Purificación Escobar and they gathered a number of awards over the years, the last one being last Christmas.
The actual owner is María Concepción Jaime and most of the figures are originals dating back to the end of the XIX and beginning of the XX Century.