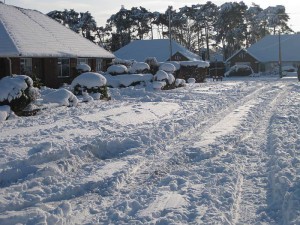 Arriving at Gatwick airport in the dead of night, one of the perils of using budget airlines, it was certainly cool but it didn't seem overly cold.
After waiting for over an hour staring at empty baggage conveyers – either the staff had gone home or there was a go-slow, never found out which – we were on our way to Hampshire. The temperature was getting cooler all the time.
Tuesday morning was frosty and a trifle on the nippy side, to say the least, but in the evening it began to snow. And snow.
And most of the UK came to a grinding halt. Roads were impassable, airports were closed and the fires were stoked up, creating talk of problems with gas supply in many parts of the country.
A frosty start.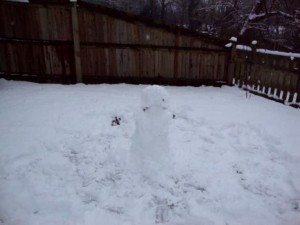 In a small village, no shops, snow on the ground, there's only one thing to do. Make the most of it. Building a snowman was the first task of the day.
He gained the name ET – couldn't help it, long time since I've built a snowman!
And in the distance we heard a lot of voices, so we went to investigate. Up a country lane and on the hill, loads of people hurtling down the slope on a variety of devices.
Some kids persuaded their mum to have a go and she came whizzing past….straight into the bushes at the bottom!
A good snowball fight, or two, was next on the agenda! Meanwhile, the country had all but ground to a halt and the TV was dominated by….the weather. At least it meant we didn't have to suffer endless non-news about Mr Bean and his band of Desperate Cronies.
There were icicle contests – some of them were 120 cm long – and there were some fabulous snow sculptures all over the place. Igloos were springing up all over and some people were even spending the night in their constructions! And why not. It doesn't have to be doom and gloom.
Late on Wednesday we managed to get a ride in a 4×4 to a larger centre of population. The route was littered with stranded cars, people trying to dig out their vehicles or sitting in their cars with the wheels spinning wildly and out of control and going nowhere fast.
We made it, though, but the snow in Berkshire was a lot deeper than it had been in Hampshire. And the forecast was for more of the same. The airports were still closed. Well, Gatwick anyway. No point worrying, just build another snowman! It also looked remarkably like ET, by the way. Snowmen are obviously not my forte.
It was announced on Friday that a couple of schools would try to open, but the kids would not be allowed to play outside for 'Health and Safety' reasons! Doesn't stop, does it?
Radio was also dominated by the weather, strangely, with people ringing in to give updates, boast about the size of their icicle or request information. One guy rang to say:
My mother-in-law is due to fly in from Bulgaria tomorrow, can you please confirm that Luton airport will be closed!
Felt sorry for two kitchen workers at a local bar and no doubt the matter will be pursued. One guy rang his boss to say he couldn't get his car out and therefore would not be at work. His boss replied that if he didn't turn up he would be fired. And he was.
His mate decided to try and get to work by taxi. The taxi crashed and the kitchen worker suffered a broken collar bone in the accident. He informed his boss as to why he would not be turning up. And was duly fired.
Ventured out once in a car to feed the ducks. Good job there was a shovel in the car! Off-piste not to be recommended!  We were the fifth car to get stuck in the same spot. The ducks (eventually) enjoyed the bread.
A week in the snow soon passed and it was back to the rain!