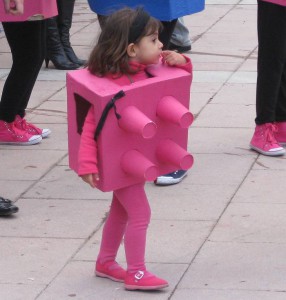 Sunday February 14th was not only 'St Valentine's Day' but also the 'Burial of the Sardine' (Entierro del Chanquete), an integral part of the Carnaval celebrations in Nerja.
Lucky breaks in otherwise bad weather allowed both the normal Carnaval procession and 'Burial of the Sardine' to take place almost as scheduled. That is to say, as on time as any event in Spain.
The sardine, bedecked with hearts, departed from Plaza de España and was then carried through the streets of Nerja accompanied by the official mourner and the requisite cohorts of wailing widows before being taken to sea at Calahonda beach for burial.
It may have been cold, but least it was dry, and the atmosphere was excellent, probably one of the best Carnaval's for many a year.
An extra bonus was a last-minute clean-up of the various building sites in the area which allowed the processions to follow their originally planned, and traditional route.