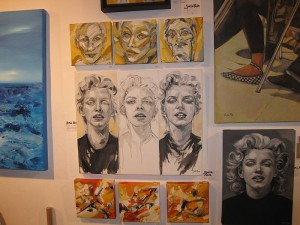 The 4th Nerja Festival de Arte is currently taking place in the Sala Mercado on calle San Miguel in Nerja, a multicultural event with artists, artisans and organisations from a variety of nationalities taking part.
The opening day, or evening to be more accurate, saw a performance by the Frigiliana-based band 'Not to Fall', a four-piece outfit who play at a number of venues in the area and are always well worth going to see.
The festival is a bit like an indoor street market in some ways and it also seems to have more of a 'buzz' about it this year. Smiling faces and an atmosphere that gives the impression that those participating are actually enjoying themselves rather than going through the motions of putting on 'another exhibition'. That's my impression, anyway.
Artwork adorns the walls of the Sala Mercado and most of the pieces are for sale, prices varying considerably. The standard of the artwork this year is, in my opinion, very good indeed.
The central isle is the domain of the various artisans, their wares on display and in many cases for sale. Jewellery, clothing, ecological soaps, glassware, leatherware, woven baskets  and other handmade items are on show.
I like wood carvings and there were some good examples on display, very finely crafted, and again, the guy displaying his wares seemed to be thoroughly enjoying himself, taking time out for a bit of a laugh as the camera appeared.
One of my favourites, though, was the basket weaver. This guy seems to have been around forever and once had a small workshop in calle Gloria and if you were lucky, you could watch him working away as you walked past. Unfortunately a dying art these days, it is fascinating to watch. He sits there, wad of esparto grass tucked under his arm, chatting away merrily as he fashions a basket, plant holder or some other item.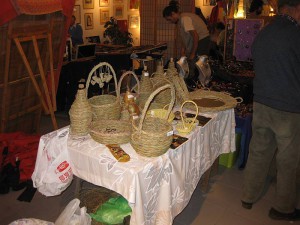 The festival continues until March 2nd and is open from 11:00 to 13:30 and from 18:00 to 21:30.