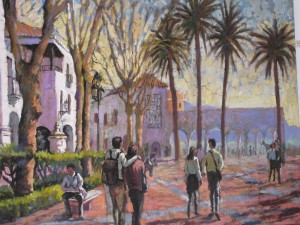 Currently on at the Sala Mercado in calle San Miguel (Plaza de la Ermita, by the taxi rank) is the third Asociación Nerjeña de Arte exhibition, so time to pop in and have a look.
The first thing you see upon entering is this large and rather splendid canvas of the Balcón de Europa. It would be a bit difficult to emulate this at the moment with all the roadworks going on.
The Nerja Art Association was established in December 2007 and aims to promote cultural activities through competitions, art exhibitions, lectures and cultural trips.
ANED currently has thirty-five partners, most of them being painters.
The Nerja Art Association meets on the first Monday of each month at 7 pm at its headquarters at the Villa de Nerja Cultural Centre in calle Granada.
The exhibition runs until December 18th and is open from 11:00 to 13:30 and from 18:00 to 20:30.
Details of the artist are included with each picture and, should you be taken by one and decide to buy it, the price tag is also shown.