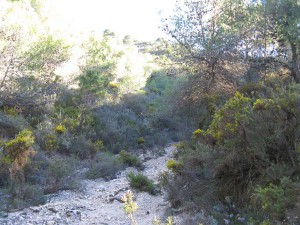 In light of the recent stories about the lost hill walker, Mary Ann Goossens, in the mountains of Nerja and Frigiliana, it is worth pointing out the hazards, once again, of walking alone or unprepared in the hills and mountains.
As a Guide here in the Sierra Almijara, I have often run into walkers with a Guide book in one hand and a look of utter bewilderment on their faces as they try to decipher what a writer was trying to describe.
These guide books are excellent tools but one basic tenet is often overlooked; they are no substitute for thinking for yourself, working out the route by using contours, measures, timing based on terrain and all the other things that go to making for a successful self-guided walk.
Mary-Ann was lost for 18 days, no more than 10 kilometres from the coastal town of Nerja with a population of 22,000 people and no more than 5 or 6 kilometres from Frigiliana with a population of 3000 people.
What a difference a Map and Compass Course would have made to her, her distraught family and the hundreds of volunteers who scoured the mountains searching for her, not to mention the huge resources used by the Police, Mountain Rescue among others.
The Axarquia or Eastern Malaga has been a remote and inhospitable place for centuries. Home to bandits, guerrillas and revolutionaries through the ages, this area is only now beginning to be explored by Spanish and foreigners alike.
These hills will turn you around and upside down. Without proper maps, compass, food and water you can be in serious trouble. Luckily Mary Ann was trapped close to water and was able to survive her ordeal even though she had no food for 18 days and nights.
Many people have built fine homes on the lower slopes close to the sea but only a few kilometres away are ravines, gorges, ridges and mountains of such silent, spectacular beauty that one wonders what the tourist agencies are up to for not promoting this fantastic wilderness more.
Perhaps they are afraid of many more Mary Ann Goossens getting lost in the wilderness only a few miles from civilisation.
When I began to take my hill walking seriously about 14 years ago, one of the first things I did was take a course on Map-reading and the use of a compass. My club, The Hillwalkers, who are affiliated to An Óige, ran and indeed still run, Map and Compass courses.
These days it's very common for all major clubs to run these courses for their members.
Mary Ann got lucky last week. Without water close by, she would be dead. Her rescue was one of the really good mountain news stories this year, but it also highlighted what can happen in what most people regard as a "safe" hiking area, if you enter unprepared and without due respect for the environment you are walking in.
John Keogh
John Keogh Walking Tours
www.HikingWalkingSpain.com